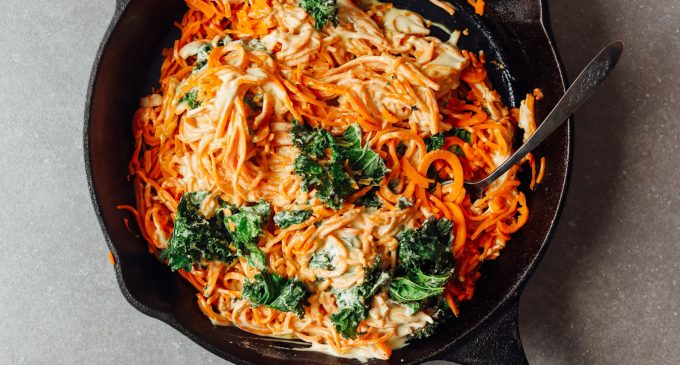 This Pasta Has an Amazing Cashew Alfredo Sauce
Alfredo pasta has long been one of our favorite dishes and judging by the fact that it shows up on so many restaurant menus, it must be a big hit even with the most diverse crowds. As much as we love its rich and creamy flavor, we do have one complaint about it, and that's that it's not vegan-friendly. Sometimes there aren't many options for vegans, but this alfredo pasta is unique in that it uses a cashew-based alfredo sauce, along with noodles made from sweet potatoes.
Vegetable-based pasta happens to be one of our favorite dishes, and you can make them from pretty much any type of veggie, but this sweet potato version is a nice complement to the garlicky rich flavor of the cashew alfredo sauce. Plus, you only need eight ingredients to make this hearty pasta, which is easy to customize by adding optional ingredients such as chickpeas or kale chips as a garnish.
To learn how to make this garlicky sweet potato pasta, please continue to Page (2) for the full list of ingredients and complete cooking instructions.