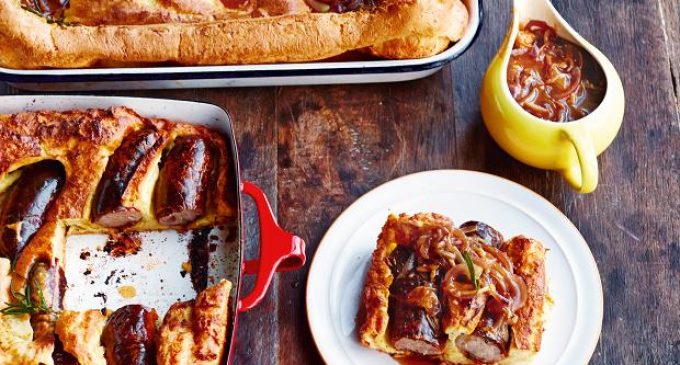 For those who are leary let me put your mind at ease. No, there are no actual toads in this dish! While frog legs are a delicacy in some parts of the world I can assure you they are not an item you'll need to make this casserole.
So what does this dish have in it? How about a delicious onion or mustard gravy served with a side of mashed potatoes and delicious roasted veggies!
Toad in the hole is a distinctly British recipe combining two very British foods: Sausage and Yorkshire Pudding.
The Yorkshire pudding with the sausage really lifts this dish to another level and when you pour the gravy on top… you are in Casserole Heaven. Toad in the hole is a relatively simple dish ingredient-wise, however, it can be hard to perfect. The trick is to preheat the casserole dish.
You can make this for dinner or serve it for breakfast. It's a relatively heavy dish but it's perfect if you are looking for something hearty and delicious.
For The Full List Of Ingredients & The Delicious Step By Step Directions Please Head On Over To The Next Page Where We Will Show You How To Make The Entire Recipe…
NEXT PAGE "