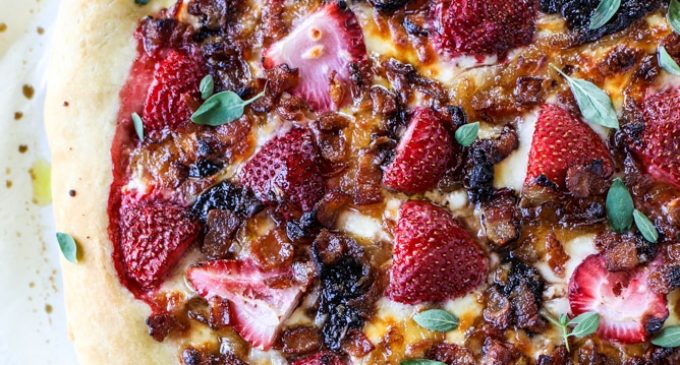 Here's everything you need for this mouthwatering strawberry pizza with bacon and caramelized onions. This recipe takes 2 hours and makes one pizza, or four servings.
Ingredients to Gather
dough
1 1/8 cups warm water
3 teaspoons active dry yeast
1 tablespoon honey
1 tablespoon olive oil
3 cups all-purpose flour
1 teaspoon salt

pizza
8 slices bacon, chopped
1 sweet onion, thinly sliced
2 garlic cloves, minced
1 1/2 cups ricotta cheese
6 ounces mozzarella cheese, freshly grated
1 pint strawberries, hulled and halved
2 tablespoons freshly grated parmesan cheese
fresh basil and oregano for topping

strawberry balsamic reduction
1/2 cup chopped strawberries
2/3 cup balsamic vinegar
Directions to Follow
In a large bowl, combine water, yeast, honey and olive oil. Mix with a spoon, then let sit until foamy, about 10 minutes. Add in 2 1/2 cups flour and salt, stirring with a spoon until the dough comes together but is still sticky. Using your hands, form the dough into a ball and work in the additional 1/2 cup flour, kneading it on a floured surface for a few minutes. Rub the same bowl with olive oil then place the dough inside, turning to coat. Cover with a towel and place in a warm place to rise for about 1-1 1/2 hours.

While the dough is rising, heat the bacon in a saucepan over medium-low heat. Cook until semi-crispy and the fat is just rendered, then remove it with a slotted spoon and place it on a paper towel to drain any excess grease. Keep the skillet over low heat and add the sliced onions. Toss well, adding another pinch of salt. Cover and cook until caramelized, stirring occasionally and making sure the onions are burning, for 45 to 60 minutes. Halfway through the caramelization process is when I stir in the garlic.

After the dough has risen, punch it down and place it back on the floured surface. Using a rolling pin or your hands, form it into your desired shape (sometimes I use baking sheets and do rectangles or free form pizzas – this specific dough will yield one pizza large enough to feed about 3-4 people) and place on a baking sheet or pizza pan. Place the towel back over the dough and let sit in the warm place for 10 minutes.

Heat the oven to 425 degrees F. (If I use my pizza stone, I heat my oven to 475 degrees and bake for 15 minutes. If you're just using a baking sheet, follow the directions below for baking and set to 425 degrees.)

Begin to make your pizza! Cover your dough with the ricotta and mozzarella cheeses. Evenly disperse the halved strawberries, caramelized onions and bacon. You can drizzle a little of the balsamic reduction on now too, but I also like to put it on after.

Bake for 20 to 25 minutes (or around 15 to 20 minutes if using the pizza stone) until the cheese is golden and bubbly. Remove from the oven and top with a sprinkle of parmesan, fresh basil and oregano. Devour!

strawberry balsamic reduction

Place the chopped strawberries in a food processor or blender and blend until pureed.

Heat the strawberries and balsamic vinegar in a saucepan over medium-low heat. Allow the mixture to come to a boil, then immediately reduce to a simmer. Simmer until the mixture reduces by half of the amount – about 8 to 10 minutes. Set it aside and let cool until ready to use. Be sure to watch this carefully so it doesn't boil over!
What do you think of this recipe? Have you ever had strawberry pizza before? Share your thoughts in the comment section below!
Article Source: How Sweet It Is