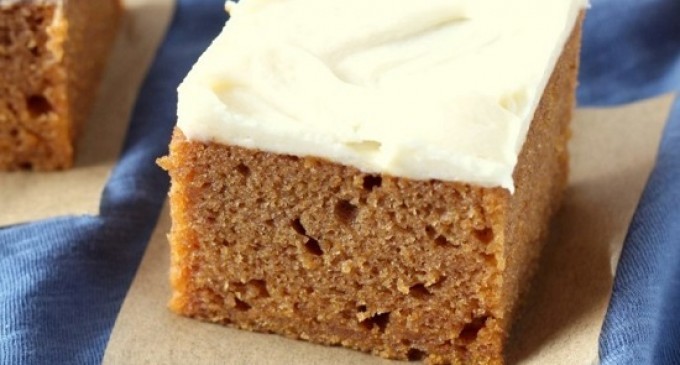 Below is the simple method of baking these delicious pumpkin bars! It's never too early in the year, or late, to enjoy a nice, moist cream cheese brownie.
Ingredients To Gather: 
Bars

4 eggs
1 ⅔ cup granulated sugar
1 cup canola oil
1 can of pumpkin (not pumpkin pie filling)
2 cups purpose flour
2 teaspoons baking powder
1 teaspoon baking soda
2 teaspoons pumpkin pie spice

Cream Cheese Frosting

8 ounces cream cheese
½ cup butter
2 cups powdered sugar
1 teaspoon vanilla
The Step-By-Step Directions To Follow: 
Preheat oven 350 F and grease a 9×13 inch baking pan.
Beat the eggs, sugar, oil and pumpkin until well combined. In a separate bowl, whisk the flour, baking powder, baking soda, pumpkin pie spice, and salt.
Add dry ingredients to the wet and stir until well combined. Bake in pan for 28-30 minutes. Cool completely.
Frosting: Beat cream cheese and butter on high until smooth. Beat the powdered sugar, vanilla and salt until smooth. Spread on top of cooled bars.
When beating your cream cheese frosting, be sure not to OVER BEAT them. I've actually experienced this mistake once myself. Over beating liquefied the frosting and creating excess bubbles. So make sure, if you see your frosting thick and ready-in-use to spread, go with your gut!
Article & Photo Source: Chocolate With Grace