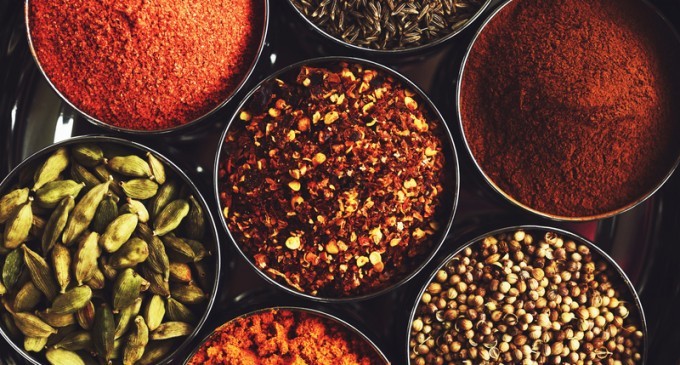 We all have our go-to spices in the kitchen. For some of us, it is salt and pepper, for others it is a dash of lemon pepper or garlic salt. Those are the flavors that we enjoy and that really add something extra to our meals. However, there are several herbs and spices you need to have in your kitchen so you can really enjoy food the way it was meant to taste.
The Herbs And Spices Everyone Should Have Include:
Lemony coriander
Lightly crushed whole coriander becomes intensely floral and works beautifully with salads, roasted vegetables, chilis, lentil stews, meat rubs, and seafood preparations — especially raw scallops and fish.
Cumin
Cumin has a strong, rich flavor and musty smell. A little goes a long way. Use cumin in Mexican and Tex-Mex dishes such as enchiladas and chili con carne, different Indian curries, and Middle Eastern and North African meats and stews.
Crushed red chili pepper
Add red pepper flakes to the oil at the beginning of a dish so that it infuses throughout, but be careful because red pepper flakes become bitter when they burn.
Cayenne pepper
Because cayenne is finely ground, unlike red pepper flakes, it's perfect for meat rubs, various marinades, and any dish that might need a more blended heat. Its flavor is fairly neutral and just adds a nice kick. Cayenne is also said to have many health benefits.
Cinnamon
While cinnamon is most commonly found in sweets in the US, it is also used to flavor meats in Middle Eastern cuisines. Thet spice adds warmth and natural sweetness to any baked good or breakfast item, from apple pie and oatmeal cookies to French toast and pancakes. On the savory side, it adds flavor depth to rich meat preparations such as braised lamb shanks, short ribs, and bolognese sauce, as well as roasted squash and root vegetables.
Ginger
Ginger is valued for its health benefits and especially known for its gastrointestinal healing powers. It's spicy, pungent, and intense, and in powdered form, is commonly used as a primary flavor in baked goods like gingersnaps and pumpkin pie.
Nutmeg
Nutmeg is not a nut at all, but the seed of a plum-sized fruit from a tropical Asian tree. It's a key flavor in the classic French sauce béchamel, as its warmth and nuttiness pair beautifully with cream sauces. And something downright magical happens when you add a pinch of nutmeg to spinach dishes.

It's also great for baking and can be used virtually anywhere cinnamon is used Nutmeg has a powerful flavor! Freshly grated nutmeg and the pre-ground stuff are almost two different spices, the former being tremendously sweeter and richer in flavor, while the later is often kind of bitter and offensive.
Cracked black pepper
This one's kind of a no-brainer, but what's important here is that you should invest in a nice pepper grinder, rather than relying on the stale, less flavorful pre-ground kind. It's hard to think of savory dishes that wouldn't benefit from a crack of black pepper; it heavily enriches Caesar and all salad dressings, and steaks to name a few dishes. Whole peppercorns are wonderful for stocks, soups, and pickling liquids, in which their flavor is slowly extracted over time.
Paprika
Cooking with smoked paprika gives your food a light smoky-and-sweet flavor as well as a beautifully vibrant color. Use it atop French fries, in vinaigrettes, over fish, in hearty soups or stews, and in virtually any meat marinade or on anything on the grill.
Vanilla
Vanilla is ubiquitous in baked goods and desserts, however, a dash of extract can also enhance certain vinaigrettes, chicken marinades, and pork dishes.
Allspice
Because it embodies a slew of other spice aromas, stocking allspice is a great way to cut out storing other spices. Allspice has a strong, dominant flavor, so a small sprinkle will suffice. Add it to pumpkin pie or gingerbread, stews, roasted vegetables, and jerk marinades.
Dried Herbs
Garlic powder and onion powder are respectively dried onions and garlic that are made into powder. You could keep them around, and you should if you need some flavors in a pinch, but neither compares to the real thing. The same goes for dried thyme, rosemary, and oregano, which are herbs, NOT spices. Regardless, fresh is generally better.
Do You Have These In Your Spice Cabinet? 
These herbs and spices will bring more flavor to your dishes and you may never want to be without them again!
Which One Is Your Favorite? 
Article Source: Thrillist