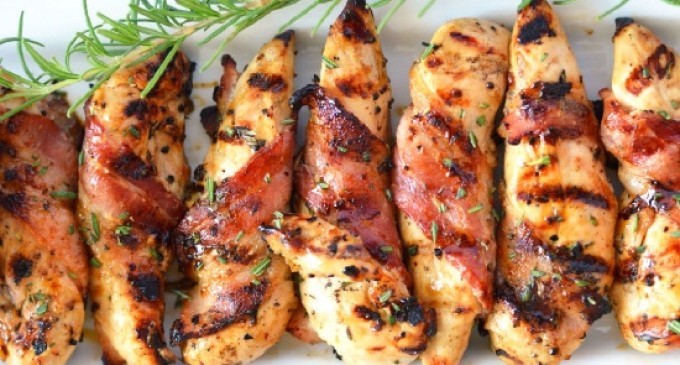 Like I said, it's absolutely shocking to me how little goes into this incredible meal considering all the flavor you get from it. I would have expected a long list of hard-to-find items, but all you really need is…
The Ingredients To Gather Up Before You Start Cooking:
2 lb. chicken tenders
8 slices bacon
¾ C Stubb's Sweet Black Pepper Anytime Sauce, divided
1 Tbsp chopped fresh rosemary
The Simple Step By Step Directions To Follow:
Add the chicken and ½ a cup of the marinade to a resealable bag and refrigerate at least an hour or up to 24 hours.

When the chicken has marinated, preheat grill to 500 degrees. Cut the bacon slices in half and wrap half a slice of bacon around each chicken tender and secure with toothpicks. Sprinkle the rosemary over the top of the chicken.

Grill the chicken about 8 minutes per side or until the bacon is cooked through, brushing the remaining ¼ cup of reserved marinade on the chicken in the last few minutes. Serve with additional sauce and an extra sprinkle of fresh rosemary if desired.
Finished!
This dish can be served with a side salad, some rice, or eaten on its own as a tailgating snack! The recipe serves up to 8 people, but my guess is you'll run out of it sooner than you think…
Enjoy!
Article & Photo Source: What The Fork Food Blog