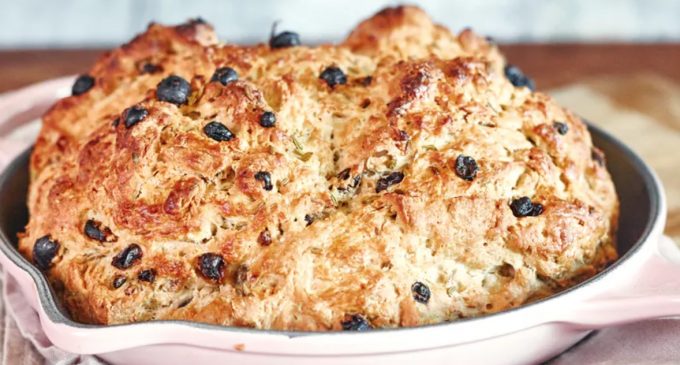 Before you begin make sure to have everything within arms reach including your equipment!
Equipment
Large cast iron skillet or baking sheet
Large bowl
Measuring cups and spoons
Whisk
Wooden spoon or rubber spatula
Brush
Wire cooling rack
Directions:
Heat the oven and chill the butter: Arrange a rack in the middle of the oven, remove any racks above the middle rack, and heat to 400°F. Lightly coat a large cast iron skillet or baking sheet with oil; set aside. (Alternatively, line a baking sheet with parchment paper.) Cut the butter into small cubes, place on a plate, and freeze for 5 minutes. Do not freeze the butter solid or you will have a hard time working it into the flour.
Mix the dry ingredients: Meanwhile, place the all-purpose flour, whole-wheat flour, baking powder, baking soda, salt, and sugar if using in a large bowl and whisk to combine.
Cut in the butter: Add the chilled butter cubes and, using your fingers, work the butter into the flour by quickly pinching and rubbing the butter and flour together. (Alternatively, cut the butter in with a pastry cutter or 2 table knives.) The butter should be fully worked in, without any large chunks left.
Add the buttermilk and shape: Add 2 cups of the buttermilk and any additions. Stir with a wooden spoon or rubber spatula to combine. At a certain point, it may be easier to use your hands to gather the dough into a rough, shaggy mass. Shape and press it into a thick, slightly flattened ball 7 to 8 inches in diameter.
Score and brush with buttermilk: Place the dough in the oiled skillet or on the baking sheet. Using a sharp knife, score a large X about 1/2-inch deep across the dough, going all the way from end to end. Brush with the remaining 2 tablespoons buttermilk.
Bake: Bake for 25 minutes. Check the bread: If it is getting too brown, tent with a piece of aluminum foil. Continue baking 20 to 30 minutes more. The bread is ready when the center of the X has lost the wet, shiny look of raw dough. You can also insert a cake tester or skewer — it should come out clean. A light thump on the bottom of the loaf should sound hollow.
Cool on a rack: Transfer the bread to a wire rack and let cool 10 minutes before serving. Don't cut the bread right away or it might turn gummy in the center. Slather lavishly with salted butter — Irish, of course — and enjoy!
We truly love this recipe. It's not only delicious but simple to make once you get the ingredients down. Which way do you prefer it? On the sweeter side or with a fuller caraway taste? Let us know in the comments below.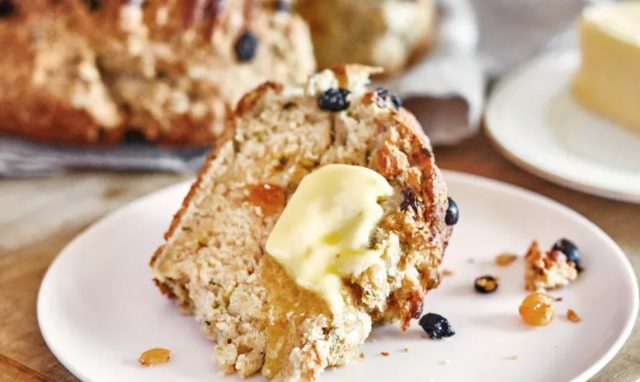 Source: TheKtchn