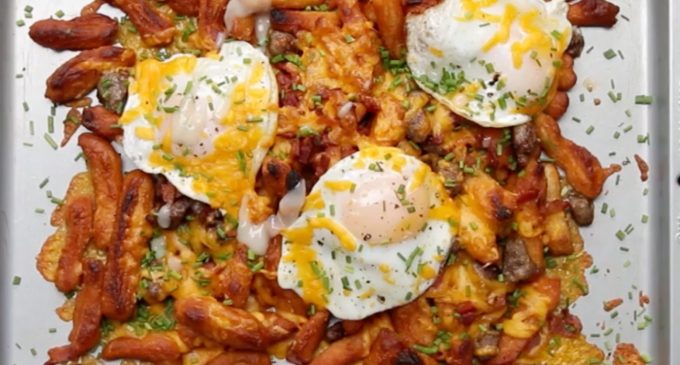 You know those longs nights where you stay out too late, have a little too much fun and the next morning feel like your head is going to cave in? Well, these breakfast fries are just what you need to get your day going! For those of you lucky enough not to know what that feels like…this breakfast is one of the best diner finds that you can now have in the comfort of your own home!
This dish takes everything we love about breakfast and mashes it up into one amazing dish!
The saltiness of the bacon, the sweetness of the biscuit fries topped off with a perfectly cooked egg make this one of our favorite breakfast dishes. Here are some of the things you will need from the grocery store to make this dish happen.
Ingredients:
3 strips bacon, chopped
1 cup (125 g) flour
1 cup (240 mL) chicken stock
1 can pre-made biscuit dough
4 links breakfast sausage, cooked
⅓ cup (35 g) shredded cheddar cheese
3 eggs, cooked to your preference
2 teaspoons fresh chive, chopped
pepper, to taste
bacon gravy, for serving
Now that we have that, let's keep reading and find out how to put it all together!
NEXT PAGE >>