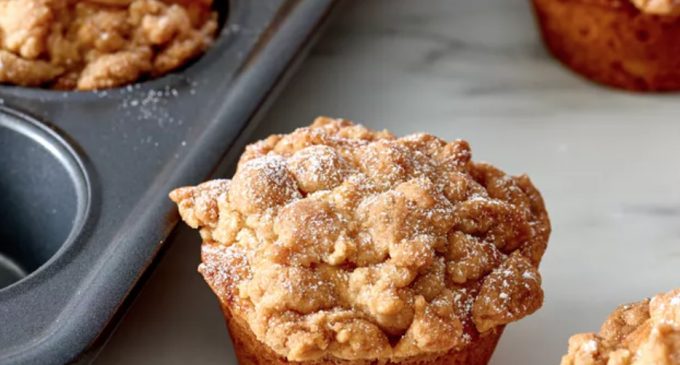 I am a fan of the grab and go breakfast. While I do love breakfast foods such as eggs, bacon…and more bacon. Most days my schedule is so hectic that unless someone wakes up super early those hot homecooked meals are a just a Saturday brunch waiting to happen.
There is nothing worse than being in a hurry to get out the door, grabbing your coffee and then realizing there is no "grab and go" breakfast available. Cue hangry headache three hours later!
This simple recipe can stop that altogether! 
Making this simple recipe the day before is easy enough and these muffins are way better than anything you would find in the pastry case of your local baker.
Check out the ingredients you will need to make such delicacies.
Ingredients:
For the crumb topping:
1/2 cup granulated sugar
1/2 cup packed light brown sugar
1 teaspoon ground cinnamon
1/4 teaspoon salt
10 tablespoons (5 ounces) unsalted butter, melted and cooled
1 3/4 cups cake flour
For the muffins:
2 1/2 cups cake flour
3/4 cup granulated sugar
1 teaspoon baking powder
1/2 teaspoon baking soda
1/4 teaspoon salt
12 tablespoons (6 ounces) unsalted butter, melted and cooled
2/3 cup buttermilk
2 large eggs
2 large egg yolks
2 teaspoons vanilla extract
1/4 cup powdered sugar
Now let's keep reading and see how we need to put it all together!
NEXT PAGE >>