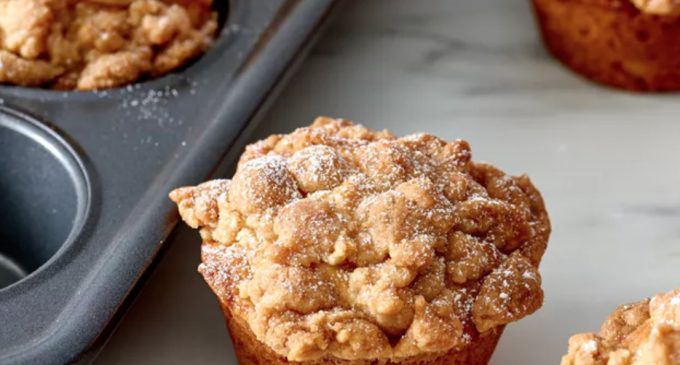 Now that we have everything all in one place we can begin preparing these delicious treats.
Directions:
Heat the oven and prepare the muffin tins. Arrange a rack in the middle of the oven and heat to 350°F. Line a standard 12-well muffin tin with paper liners, or coat the wells with butter or cooking spray; set aside.
Make the crumb topping. Whisk the granulated sugar, brown sugar, cinnamon, and salt together in a medium bowl. Whisk in the butter until well-combined. Stir in the flour until the mixture just resembles a thick dough; set aside.
Mix the dry ingredients for the muffins. Whisk the flour, sugar, baking powder, baking soda, and salt together in a large bowl; set aside.
Mix the wet ingredients. Whisk the butter, buttermilk, eggs, egg yolks, and vanilla together in a medium bowl until combined.
Fold the wet ingredients into the dry. Pour the wet ingredients into the flour mixture and mix with a wooden spoon or rubber spatula until just combined; some lumps are fine.
Fill the pan and top with crumbs. Divide the batter among the prepared muffin wells, filling each one 3/4 of the way full. Divide the reserved crumbs among the muffin wells, and gently press them into the batter.
Bake the muffins. Bake until the muffins are golden-brown and a toothpick inserted into the center of a muffin comes out clean, 20 to 24 minutes. Cool the muffins in the pan for about 5 minutes, then transfer to a cooling rack to cool completely.
Dust with powdered sugar. Dust the muffins with the powdered sugar before serving.
Recipe Notes
Storage: The muffins will keep at in an airtight container at room temperature for up to 5 days. They can also be frozen for up to 2 months, then thawed at room temperature.