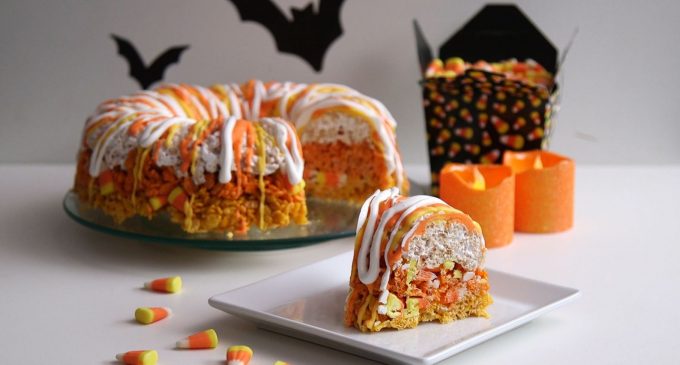 If there is one candy that is synonymous with Halloween and all things spooky and mysterious its Candy Corn. Now I honestly do not know anyone that actually eats candy corn on its own. Most use it for decoration or as a special ingredient in various baked goods but I am not sure anyone actually eats it by the handful.
I went to a Halloween party this past weekend. I know, It's a tad early but the hosts have a party every year and this year they will be out of town so rather than forgo their tradition they simply moved the date up. It was fun to get all dressed up and see everyone having a good family friendly fun time. The best part though I'm sure you can guess was the food!
Food glorious good! There were orange and black treats as far as the eye could see. Since we still have a couple of weeks before the actual Halloween I thought I would pick out a few of those treats and share them with you here.
The first one I noticed was this Candy Corn Krispy Cake. I noticed it because there was a line of kids and adults standing in front of it. So I too got in line and it did not disappoint. So let's take a look at what is needed and what we need to do in order to create this Halloween sweet treat.