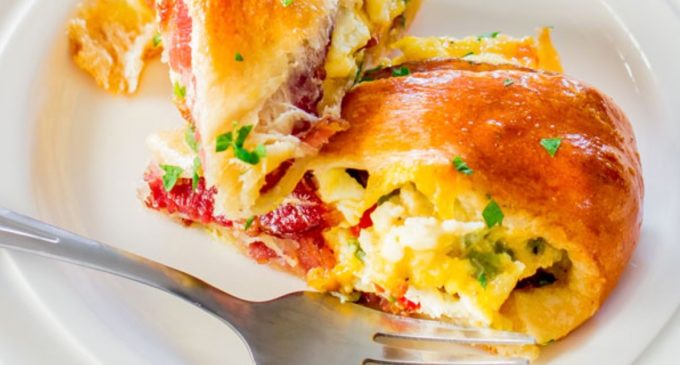 Looking for something super simple for Christmas morning?
Let's face it with all of the cooking that is going on this holiday season breakfast on Christmas morning is just another thing on our plate (pun intended) but we have a way for you to get it done without the hassle with this next recipe!
Don't wake up super early just to prepare breakfast before cooking all day! Use this instead!
Fluffy eggs loaded with bell peppers, shredded cheddar cheese, and, of course, bacon will take your Pillsbury Crescent can to the next level with this Bacon Breakfast Ring. If you wanted to, you could make your dough from scratch, but that might cut into everything else you have planned for an epic weekend. Spend less time kneading and more time eating.
After you make this recipe, you might want to consider making this meal a weekend tradition. It has all the ingredients you need to make the perfect powerhouse breakfast. Needless to say, everyone will be squealing with joy, because this Crescent Bacon Breakfast Ring is a real crowd pleaser.
For The Full List Of Ingredients & The Step By Step Directions To Follow Please Go To Page (2)…
NEXT PAGE »