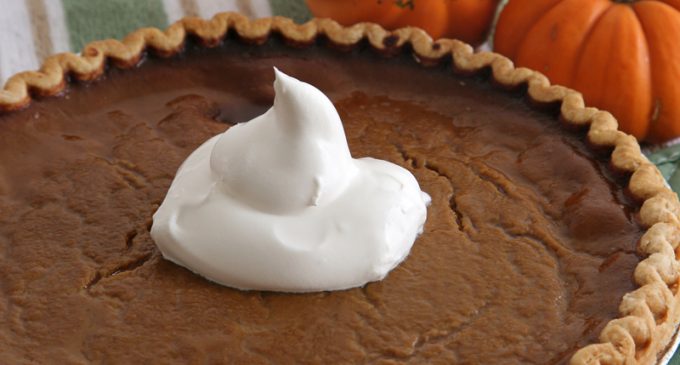 This pumpkin pie recipe makes enough about one nine inch deep dish pie, but you can always double the ingredients if you want more. It takes about forty-five minutes to an hour and a half  hours to prepare the pumpkin and  another  forty-five minutes to one hour to bake. It will smell so heavenly, you'll forget all about how long you waited to try it!
Let's Get Started…
The Ingredients To Gather:
1 cup sugar
1.5 teaspoon ground cinnamon
1 teaspoon ground cloves
1 teaspoon ground allspice
1/2 teaspoon ground ginger
Optional: 1/2 teaspoon mace
1/2 teaspoon of vanilla extract (optional)
1/2 teaspoon salt (optional)
4  eggs
3 cups pumpkin glop
1.5 cans of evaporated milk
The Step By Step Directions To Follow: 
1 Get  pie pumpkin

Just like selecting any squash, look for one that is firm, no bruises or soft spots, and a good orange color. One 6″ pie pumpkin usually makes one 10 inch deep dish pie and a bit extra; or two 9 inch shallow pies!

2  Prepare  pumpkin for cooking

Cut the pumpkin in half. A serrated knife and a sawing motion works best.

3  Scoop out  seeds

Scoop out the seeds scrape  insides.

4  Cooking  pumpkin

Basically, you cut and scoop out the pumpkin as for the other methods, place it cut side down into a covered oven container. Cover the ovenproof container, and pop it in an 350 F oven. It normally takes about 45 minutes to 90 minutes,  just test it periodically by sticking it with a fork to see if it is soft!
5  Scoop out cooked pumpkin

Use the spoon to gently lift and scoop the cooked pumpkin out of the skin. It should separate easily an in fairly large chucks.

Step 6 – Puree  pumpkin

Puree the pumpkin to get a nice, smooth consistency.

8  Make  crust
Yes, I know there are ready-made pie crusts in the frozen section at the store, but they really are bland and doughy. A flaky crust is easy to make! Again, note that unless you use large, deep dish pie plates, you may have enough for 2 pies.

9 Mix  pie contents
All the hard work is behind you! Here's where it gets really easy. If you start with a fresh 8″ pie pumpkin, you will get about 3 cups of cooked, mashed pumpkin.

10 Pour  filling into pie crust

It may start as a soupy liquid, but it will firm up nicely in the oven!

11  Bake

Bake at 425 F  for the first 15 minutes, then turn the temperature down to 350 F,  bake another 45 to 60 minutes, until a clean knife inserted into the center comes out clean. Cool.
Finished!
This pumpkin pie made with fresh pumpkin so delicious, you'll never want it any other way- Have you tried this pumpkin pie recipe yet?
Let Us Know What You Thought!
Article Source:  Pumpkin Patches And More