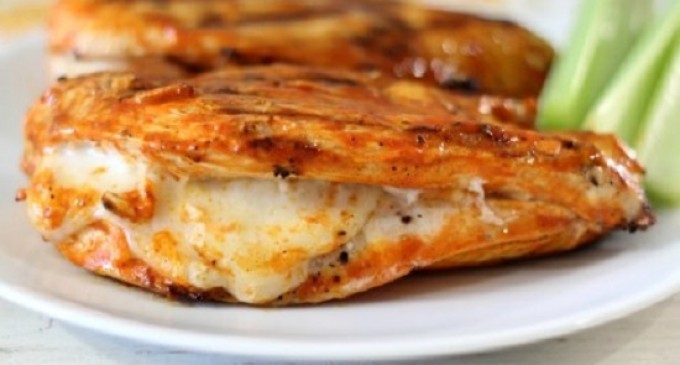 If you don't have celery salt, any kind of salt mixture will work to add a salty flavoring. If you want your chicken to be really spicy we recommend you add a little more than what is required from this recipe. If you want it less spicy then don't add the full 1/4 cup of hot sauce.
Let's Get Started… 
Ingredients To Gather:
1 lbs. boneless chicken breast

black pepper

¼ cup mozzarella cheese, shredded,divided

1 tsp. butter

¼ cup Franks Hot Sauce

¼ tsp. celery salt
Instructions To Follow: 
Preheat grill to medium low heat

Cut your chicken horizontally but not all the way through. Sprinkle the inside of the chicken with pepper. Evenly top the chicken with cheese and fold over the chicken to close it.

In a microwave safe bowl melt the butter for 8 seconds. Stir in hot sauce and celery salt.

Brush one side of the chicken with hot sauce mixture and place the hot sauce size down on the grill. Brush more hot sauce over top of chicken. Cook for about 7 minutes. Flip the chicken and brush on remaining hot sauce and cook until no longer pink; about 5 minutes more.
Finished!
After you make this once you'll be excited to make it again and again. You may even ditch the grilled cheese for a while. Enjoy this spicy and cheesy dinner with a side of vegetables or even a salad.
Article Source: Peanut Butter & Peppers