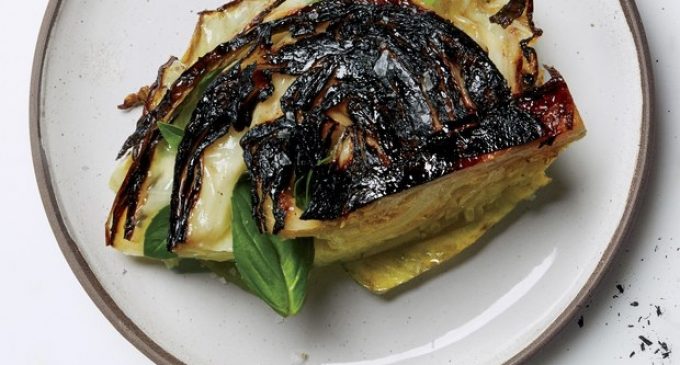 This one sentence has sparked debate among professional chef's and cooks all over the country. Braising cabbage has been the go-to for centuries. While it works and in many cases tastes wonderful I will tell you first hand your home will smell of…well…you get the picture.
Not only does braising cabbage take a long time, but it also requires stock in Yankee Candle in order to counteract the smell. Thankfully after careful research and some in-home testing, we've found the perfect alternative…blackened cabbage.
Now before you scrunch up your nose and say "no one wants blackened cabbage" just read through what I'm about to tell you.
You need two things for blackened cabbage: a very hot cast-iron or carbon steel pan, and a neutral oil. Don't use butter or olive oil to sear—these have low smoking points and will definitely break down and burn.

Here's how to do it: set a cast-iron skillet over medium-high heat and quarter the cabbage (remove the core—that's not getting tender any time soon). Add the cabbage cut side down, covered, for 10 minutes. Crank the kitchen fan and use that vent hood. But don't touch the cabbage.

After 10 minutes, remove the lid, reduce the heat to medium-low and add 4 tablespoons of butter. As the butter melts, tilt the pan (please be sure to hold the handle with a towel) and start spooning the melted butter over the cabbage rapidly (this is called "basting"). Baste for about 20-30 seconds, then cover the cabbage and let it cook for another 3 minutes. Repeat this basting and covering rigmarole twice, then remove the cover. Place pan in a oven heated to 400°F and roast for 6 minutes.
I promise you it will be well worth it. In fact, I have the perfect recipe to go with this method. So let's keep reading and take a look at a few things that will take this process and make it over the top delicious.