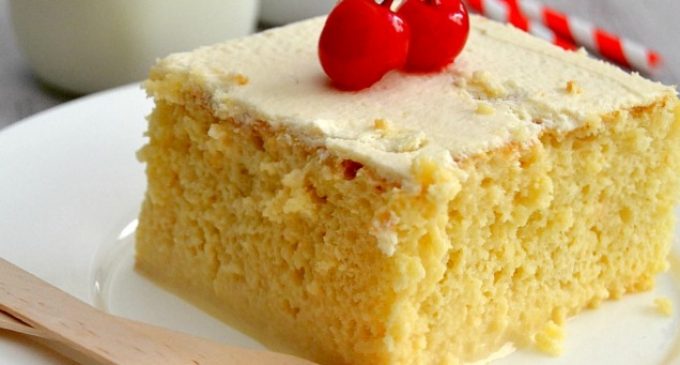 Ingredients for tres leches cake
1 box French Vanilla cake mix
4 eggs
2 Tbsp oil
1¼ cups water
1 (14 oz) can sweetened condensed milk
1 (12 oz) can evaporated milk
1¾ cups heavy whipping cream, divided
2 Tbsp sugar
1 tsp vanilla
Cherries, optional, for garnish
Directions
1. Preheat oven to 350 degrees F. Liberally grease a 13×9″ baking dish with cooking spray and set aside.
2. In a large bowl, combine the cake mix, eggs, oil and water with a handheld electric mixer on low speed. Beat for 2 minutes or until combined. Pour the batter into the prepared baking dish, and bake for approx. 25-30 minutes or until a toothpick inserted near the center comes out clean or with moist crumbs.
3. Let cake stand for five minutes before poking holes all over the top with a kebab skewer or fork. In a separate bowl, whisk together the sweetened condensed milk, evaporated milk and ¾ cup heavy whipping cream until combined. Pour the mixture evenly over the top of the cake, trying to fill the holes as much as possible. The milk mixture will pool around the edges of the cake; this is okay. Immediately place the cake in the fridge to set, at least 6 hours or preferably overnight.
4. Once cake has set, make your frosting: in the bowl of a stand mixer fitted with the whisk attachment, whip the remaining 1 cup of heavy whipping cream, 2 Tbsp sugar and teaspoon of vanilla on HIGH speed until stiff peaks form. Frost the top of the cake, then cut into squares. Garnish with cherries if desired.
Source: thedomesticrebel