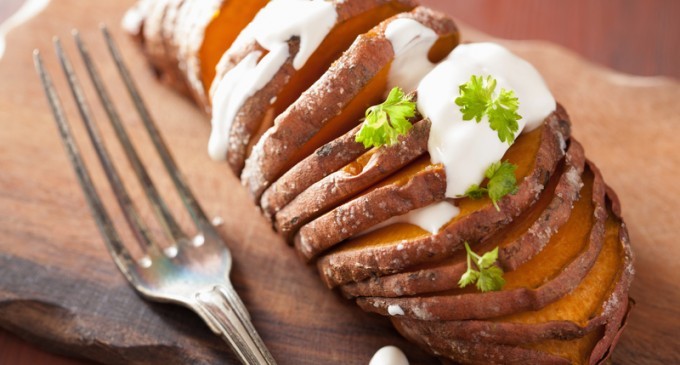 Here's the step-by-step instructions for making these tender Hasselback potatoes. You can serve them any way you like, but we really like them with the bacon, sour cream and onion dip included below.
Check Out How They're Made… 
Thinly slice 1 pound of baby or fingerling potatoes, careful not to cut all the way through. An easy trick for this is to set a pair of chopsticks on either side of the potatoes while slicing, as the chopsticks keep the knife from cutting through entirely. Fan open the potatoes and soak them in salted cold water for 15 minutes.
Drain and dry the potatoes, then spread them out on a parchment paper-lined sheet pan.
Now, roast the potatoes in the oven for between 25 and 30 minutes, or until the outsides of the potatoes have turned crispy and the insides are soft. While you're baking the potatoes, make the dip by mixing together 1 cup of sour cream, ¼ cup of shredded cheddar, ¼ cup of sliced green onion, ¼ cup of cooked crumbled bacon, a few dashes of hot sauce, and salt and coarse ground black pepper to taste. Stir the mixture and then place in the refrigerate until you're ready to use it to dip the Hasselback potatoes in.
Finished!
Mmm…these Hasselback potatoes sound like a stick-to-your-ribs dish. We really like them as a side dish with a hearty meat main course, but they also go well with a couple of veggie sides.
Happy Baking & Enjoy!
Article Source: Tasting Table