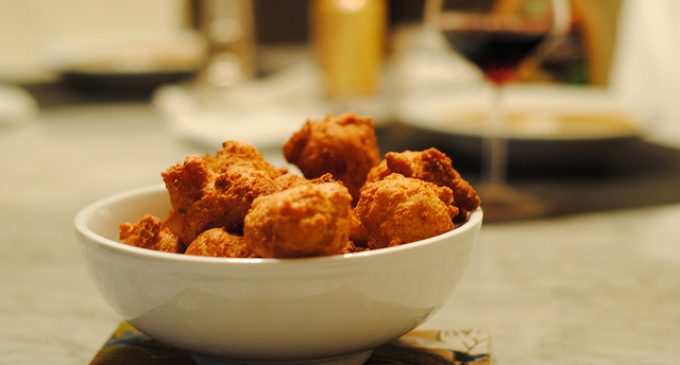 Hush puppies are a southern tradition and normally no one bakes them better than grandma…until now!
These hush puppies only take a half hour to make, including prep time and yield 35! They are so easy to make you'll think you're the next Paula Deen.
Never tried a hush puppy before, you are missing out! They are basically deep fried cornbread balls. You can eat them as a side dish or an appetizer, or whichever way your little heart desires.
For my dish, I decided to serve them with a hearty bowl of chili. The weather is now cooling off a bit and there is nothing better to start the Fall season off with than a delicious bowl of chili and a side of hush puppies!  Which I must say, was a genius idea! Find out for yourself just what I mean.  You can also enjoy them with fried catfish and collard greens (if you're feeling truly southern), but ultimately, they can be eaten and enjoyed on their own as a delicious snack.
For The Full List Of Ingredients & The Simple Step By Step Instructions On How To Make This Fantastic Dish Please Head On Over To The Next Page…