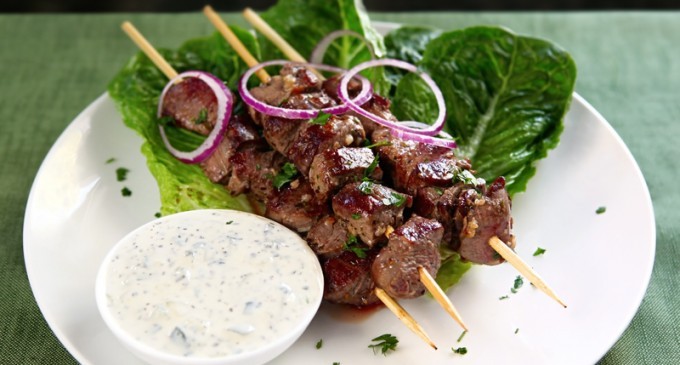 Spice Things Up With This Amazing Lamb Kebab Recipe…
Spice up dinner time by trying something new tonight. Bring a taste of Greece to the table with some deliciously juicy, tender, lamb kabobs. The smell of Middle Eastern spices will transport you to another place — no passport required.
For this recipe you can prepare the kabobs either on the grill or bake them in the oven. Pair the kabobs with rice, Greek salad, tzaziki and pita bread for a truly authentic experience. For those of you who don't know what tzaziki is: it is a dipping sauce made with Greek yogurt, dill, cucumber and garlic. You can make your own tzaziki or make your own by purchasing a few common ingredients at the grocery store. Personally, I love to grab my tzaziki at my local farmer's market.
By the end of the meal you might be breaking plates in celebration and shouting, "Opa!" Because these will be the best lamb kabobs you've ever had in your life.
For The Full List Of Ingredients & The Step By Step Directions To Follow Please Go To Page (2)…
4 Comments
Write a Comment