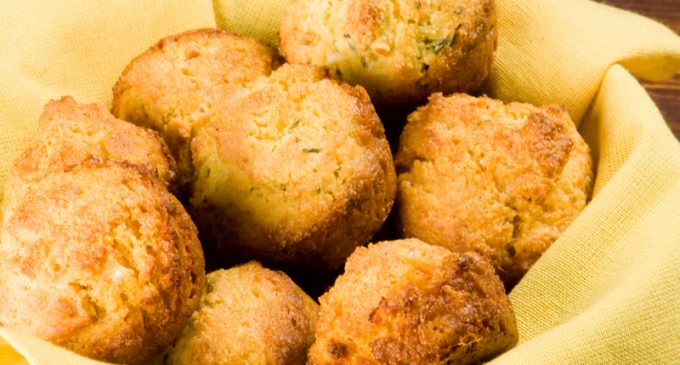 These delicious corn bread muffins make enough for twelve servings. They take about fifteen minutes to bake. You will be enjoying these delectable muffins in no time!
Let's Get Started…
The Ingredients To Gather:
1 ½ cups milk
6 tablespoons butter
2 eggs
1 ½ cups flour
1 ½ cups cornmeal
2 tablespoons baking powder
1 teaspoon salt
1 tablespoon sugar
5 mozzarella cheese sticks
The Step By Step Directions To Follow:
1. Preheat oven to 400°F
2. Mix  milk, eggs, melted butter. Fold in  flour, cornmeal, baking powder, salt,  sugar.
3. Divide cheese sticks into 5 cubes each,  25 cubes.
The Additional Directions To Follow:
Spray your pan with any cooking spray. Put approximately two tablespoons or so of your mixture into each one of your muffin pan cups. Put about two cubes of cheese in the middle of the cups. Add more batter on the top until each is about three-fourths of the way full.  Allow to bake for about fifteen minutes or until done. Let the muffins cool for about five minutes or so.
Finished!
These mozzarella stuffed corn bread muffins are so delicious, you may want to make them all the time- Have you tried these muffins yet?
Let Us Know What You Thought!
Article Source: Buzz Feed