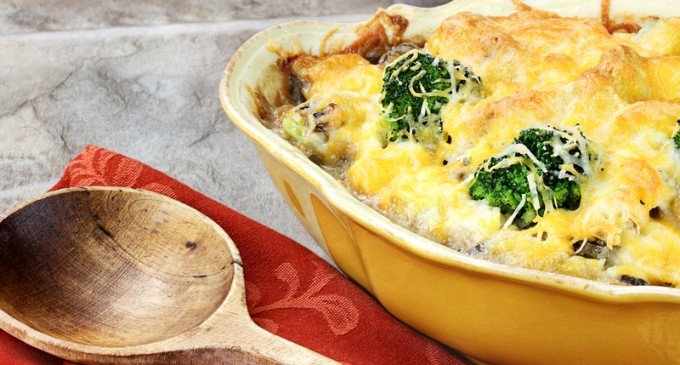 If you are looking for a casserole dish to impress your friends and family then this is definitely the one to do it with. Paula Dean never gives a disappointing recipe.
The Ingredients That You Need To Get.
2 pounds fresh broccoli
2 tablespoons unsalted butter
1/4 cup chopped celery
1/4 pound fresh mushrooms
1/4 cup chopped onion
1 (8-ounce) can water chestnuts
1 (10 ounce) can cream of mushroom soup
1/2 pound cheese
Step By Step Directions For The Perfect Cheesy Broccoli Bake
Steam the broccoli until tender.

Melt the butter and saute the celery, mushrooms, and onion. Combine the broccoli and the cooked vegetables in a bowl.

Heat the soup cheese over low heat until the cheese melts. Pour it over the broccoli mixture. Add the garlic salt and pepper and combine.

Bake for 25 minutes at 350 degrees.

Anything that Paula Dean makes is absolutely delicious, homemade and has a southern taste to it.
~*~ Helpful Notes For The Cheesy Broccoli Bake ~*~
I used a 9×13 Casserole Dish.
I didn't use any cooking oil to grease my pan instead I used butter.
The last fifteen minutes of baking this dish I sprinkled about a cup or two on top of the casserole and left it in the oven. This gave it an extra cheesy taste that was amazing at the end.
Season to taste with Garlic Salt, Lemon Pepper or Italian Seasonings.
This Recipe Was Adapted From: Food Network