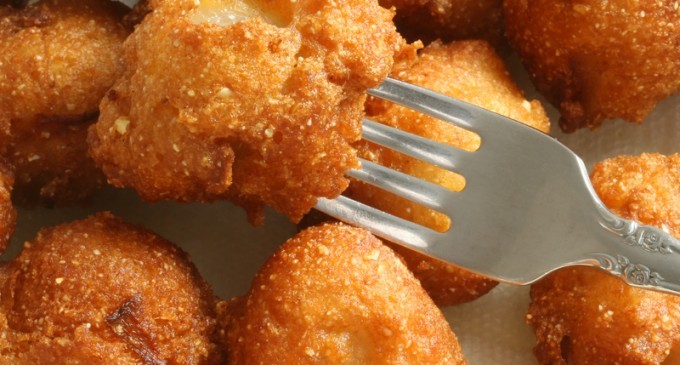 It's no secret that Paul Deen knows her way around a fryer, and after one bite of these hush puppies you'll know just what I mean.
Things You Will Need:
6 cups peanut oil
1 1/2 cups self-rising cornmeal
1/2 cup self-rising flour
1/2 teaspoon baking soda
1/2 teaspoon salt
1 small onion, chopped
1 cup buttermilk
1 egg, lightly beaten
How To Prepare:
It's time to start frying! You can use a deep pot, or a fryer if you have one, and bring the temp of the oil up to 350 degrees.
Now it's time to prepare your dough! Combine cornmeal, flour, baking soda and salt. You can mix by hand or use a mixer on low. Combine buttermilk mixture with the dry ingredients.
Now it's time to start frying! Drop a teaspoon of batter at a time and fry until golden brown.
Finished
Note: It's said that hunters would cook up these fried ball of cornmeal and feed them to the dogs to help keep them quiet, hence the word hush puppies.
Article Source: Food Network