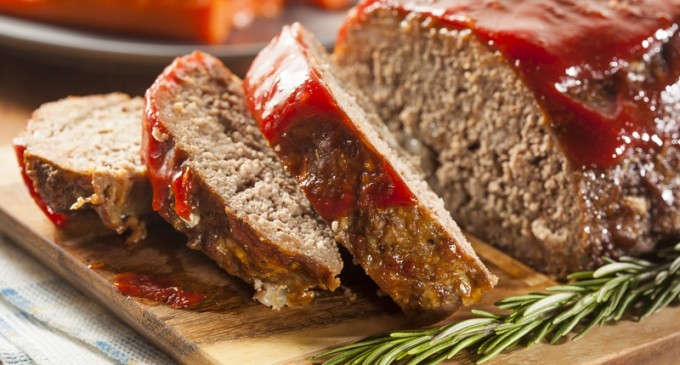 For the onion you can use either white onion or red onion. Meatloaf is really whatever you feel comfortable putting into it. So, feel free to modify this recipe if you like, however, we recommend trying it this way the first time.
Let's Get Started… 
Ingredients To Gather
Nonstick cooking spray
2 pounds ground chuck
1 cup crushed saltine crackers
1/2 cup finely chopped celery
1/2 cup finely chopped onion
3 tablespoons Worcestershire sauce
1/4 cup Dijon mustard
2 tablespoons chopped fresh parsley, plus more for garnish
1 1/4 teaspoons salt
1 1/4 teaspoons ground black pepper
2 large eggs, lightly beaten
One 6-ounce can tomato paste
5 slices white bread
2 tablespoons firmly packed brown sugar
1 tablespoon fresh lemon juice
Step By Step Directions To Follow
 Preheat the oven to 350 degrees F. Line a baking sheet with foil and spray with nonstick cooking spray.
In a large bowl, combine the chuck, crackers, celery, onions, Worcestershire sauce, 2 tablespoons of the Dijon mustard, the parsley, 1 teaspoon each of the salt and pepper, the eggs and half the can of tomato paste, and mix together.
Place the white bread on the bottom of a baking sheet and place the beef mixture on top. Shape the mixture into a 12-inch loaf.
In a small bowl, combine the brown sugar and lemon juice with the remaining tomato paste, Dijon mustard and salt and pepper. Spread the mixture over the meatloaf and cover with foil. Bake for 50 minutes but remove foil at 10 minutes remaining.
Let the meatloaf stand for 10 minutes before slicing.
Finished!
Before serving it, you can garnish it with parsley to make it more presentable. If there's any juices leftover, you can add it on top. You can also add gravy to the top of the meatloaf to give it a more delicious and warm flavor. Serve with a side of mashed potatoes and vegetables and you've got yourself one tasty dinner.
Happy Baking & Enjoy!
Article Source: Food Network