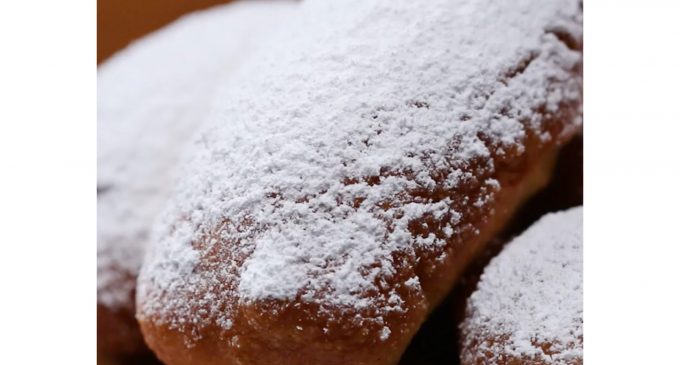 First, gather up all of the ingredients you will need!
Ingredients
2 tablespoons unsalted butter
1 lb jar peaches, chopped
⅓ cup brown sugar
½ teaspoon cinnamon
1 tablespoon all-purpose flour, plus additional for dusting
¼ teaspoon nutmeg
2 lb pizza dough
oil for frying
½ cup powdered sugar
Next, let's put it all together!
Directions:
Add the butter and peaches to a pan over medium-low heat and cook until the butter has melted and peaches are glossy.
In a small bowl mix together the brown sugar, cinnamon, 1 tablespoon flour, and nutmeg. Sprinkle the sugar mixture over the peaches. Mix to combine and stir for 5-10 minutes until the mixture starts to thicken. Remove from heat and set aside to cool.
On a floured surface, roll out the pizza dough to ¼-inch (0.63-cm) thick. Cut the dough into 20 rectangles.
Spoon 1 tablespoon of the peach filling onto a cut piece of dough. Fold the dough over lengthwise and crimp the edges so the filling is well sealed. Repeat with remaining dough and filling.
Heat oil in a large pot to 350°F (180°C).
Working in batches, fry beignets for 3-4 minutes each, flipping halfway, until puffy and golden brown.
Transfer beignets to a paper towel-lined plate to drain.
Dust with powdered sugar.
Even if you're not a fan of peaches this is a great recipe to experiment with by adding in whichever fruit happens to be in season.
Let us know how it goes for you. Did you use a different fruit or technique? Let us know in the comments below.
Source: MommyDoesntCook