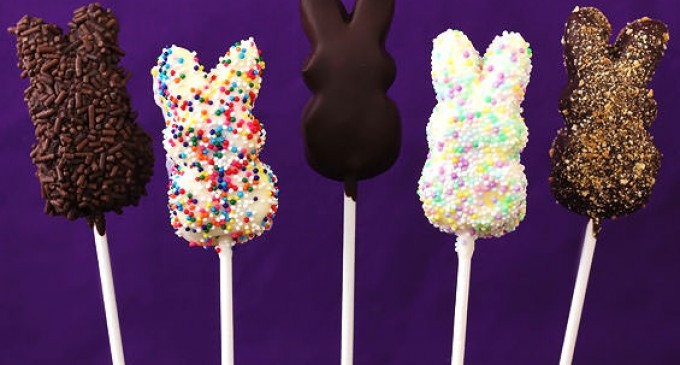 Ingredients: 
Melted chocolate (dark, white, etc.)
Assorted sprinkles or crushed graham crackers
Lollipop sticks
Wax paper or parchment paper
Directions 
Prepare the "pops" by first inserting a lollipop stick into each bunny.
Then, while holding the stick, carefully dip a Peep into the chocolate until thoroughly coated, then remove from chocolate and cover with desired sprinkles.
Place the pop on wax paper and leave until the chocolate is cooled and firm.  Enjoy!
Did You Try It?! 
Let your inner kid out and make this awesome dessert and because Peeps are now sold all year round you can make different Holiday Themed Peep pops, like a Christmas Tree Peep pop or Ghost Peep pop. You can make it as a last minute addition to you holiday meal, you can make it for parties, or you can make it anytime you want as a delightful little snack. Make them! Get creative with them! Love them!
If you think this is an awsome idea and would like to see more of this article please visit: gimmesomeoven
Photo Source: gimmesomeoven