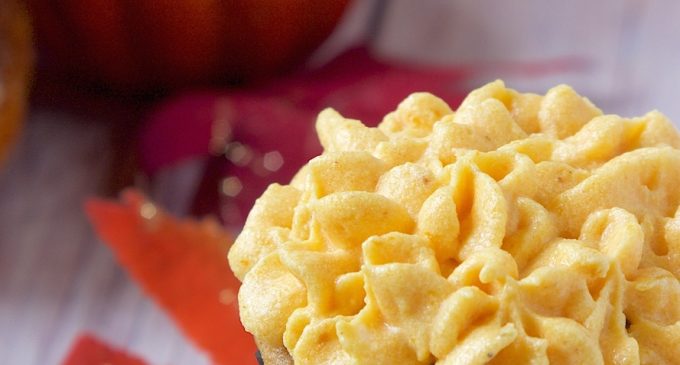 This treat is going to be one that everyone will love so make sure to adjust the recipe accordingly. The way it is laid out here this batch would make around 18 small to medium size cupcakes.
PUMPKIN CREAM CHEESE FROSTING
2 Sticks (1 Cup) of Unsalted Butter, Softened.
2 Blocks of Cream Cheese, Softened.
1 Cup of Pumpkin Puree.
1 Teaspoon of Vanilla.
1 Teaspoon of Cinnamon.
1/4 Teaspoon of Nutmeg.
4 Cups of Powdered Sugar.
DIRECTIONS: 
FOR THE SPICE CUPCAKES
Preheat your oven to 350 degrees F.
Place 18-20 cupcake liners into your cupcake tins and set aside.
With a handheld or stand mixer with a paddle attachment, place all of your ingredients into your bowl and mix until smooth.
With a spoon or ice cream scoop fill your cupcake liners 1/2-3/4 of the way full and bake for 15 minutes or until they spring back to the touch.
Let cool completely and place your frosting on top.
FOR THE PUMPKIN CREAM CHEESE FROSTING
With a handheld or stand mixer with paddle attachment, place your cream cheese into your bowl and whip until smooth.
Now add your butter and whip together with the cream cheese until well combined.
Now add your pumpkin puree, your spices and mix until combined.
Now, one cup at a time add your powdered sugar and mix until smooth.
You can pipe or spoon your frosting on top of your cupcakes and enjoy!
Now here is the part where we pretend you weren't licking the spoon the entire time you were making these. It's okay, we know you couldn't resist!
Have you made these or any variation of these before? If so how did it go? Do you have any tips or tricks you would like to share with us? If so leave them in the comments below.
Source: Holly