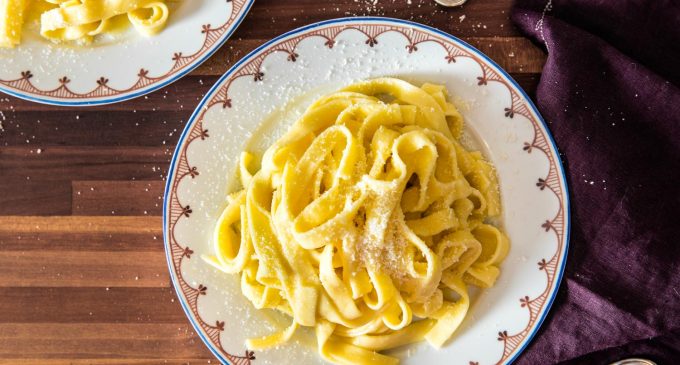 Every so often I will stumble across some food facts that simply astound me. Some are pretty simple and others a little more in depth but this one made me say….WHAT?!
Thankfully we have found the truth and how to recreate it in our own homes! 
Go to pretty much any restaurant, whether it's a high-end, gourmet Italian restaurant or just your neighborhood pub and grill around the corner, and chances are you'll see fettuccine Alfredo on the menu. It's a rich, creamy dish that pretty much everyone likes, making it a safe bet for nearly any restaurant menu. As popular and iconic as this dish is, however, it turns out what we see on restaurant menus isn't actually authentic Alfredo sauce. We were shocked, too!
The original Alfredo sauce, also called Roman Alfredo sauce, was created by a man named, you guessed it…Alfredo! He created the sauce at the beginning of the 20th century, and it was so popular that he eventually got into a battle with his former headwaiter over who owned it. Yes, it's that good! The original version is a bit different,
To learn how to make the original version of Alfredo sauce, please continue to Page (2) to learn exactly how it's done.
NEXT PAGE "