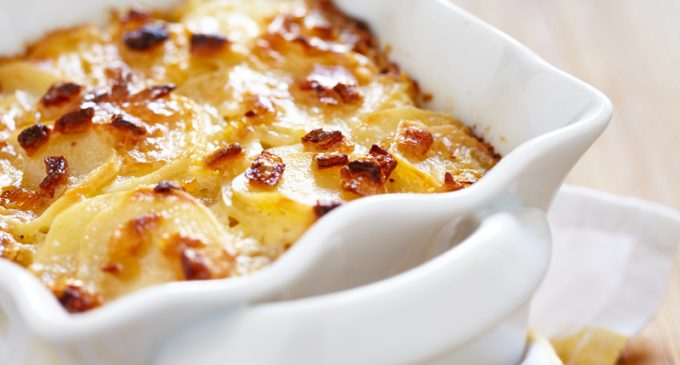 Here's everything you need to make these rich and flavorful bacon ranch scalloped potatoes. We like to make extra and then reheat the leftovers for dinner another night that week!
Ingredients to Gather
5 large potatoes, thinly sliced
½ cup butter
⅓ cup flour
2 cups heavy cream
2 cups milk
2 packages ranch dressing mix
2 cups shredded cheddar cheese, divided
1 cup bacon
Instructions to Follow
Preheat oven to 350 degrees F.
Spray 9×13 baking dish with cooking spray spray.
Placed sliced potatoes upright in baking dish in two rows the length of the baking dish.
In a medium sauce pan melt butter over medium heat. Add flour and cook for 1 minute. Add cream, milk and ranch and bring to a boil.
Remove from heat and stir in 1 cup cheese.
Pour sauce over potatoes and make sure the sauce gets in between all the potatoes.
Sprinkle with the remaining cheese.
Top with bacon, cover with foil and bake for 1 hour.
Now all you need to do is remove the foil and bake for another 10 minutes; you'll know the potatoes are done when a fork inserted inside comes out clean.
Wow! This is one hearty, savory side dish! One thing we really like about these bacon ranch scalloped potatoes is that they appeal to both kids and grown-ups. Plus, they really add a lot of pizzazz to any main course!
Article Source: Chef in Training