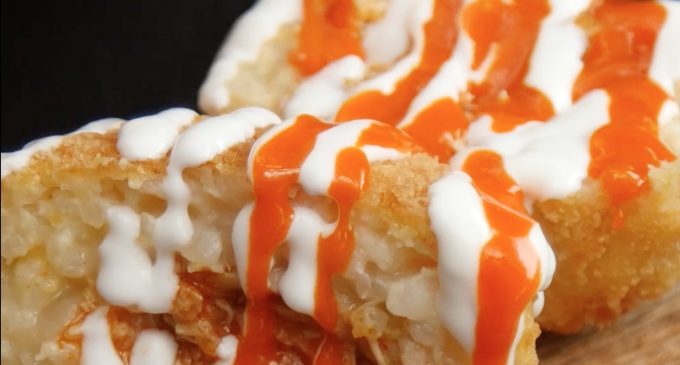 Looking for something amazing to serve at your weekly get together? As you will see later in this article these buffalo bombs are perfect.
Dunk These In a Rich and Creamy Sauce for One Amazing Appetizer!
If you like buffalo wings (like we do!), then you're going to love these buffalo rice bombs. They have a lot in common with the traditional buffalo wings, including that hot and spicy sauce that really sets your taste buds on fire! This recipe is a creative twist on that old favorite, however, by sandwiching that hot and spicy chicken in between two delectable rice patties. Then, dip them in hot oil and cook, and you have one hearty treat that's even better when you dunk it in a rich and creamy sauce. Yum!
These rice bombs are loaded with delectable flavor, in part because of the buffalo sauce made from hot sauce, cumin, and melted butter. Plus, you dredge them in a seasoned breadcrumb mixture that makes them even more savory. There's also onion and white wine, and plenty of spices that include oregano and Romano cheese. Yum!
To learn how to make these hot, rich buffalo rice bombs at home, please continue to Page (2) for the full list of ingredients and complete cooking instructions.
NEXT PAGE »