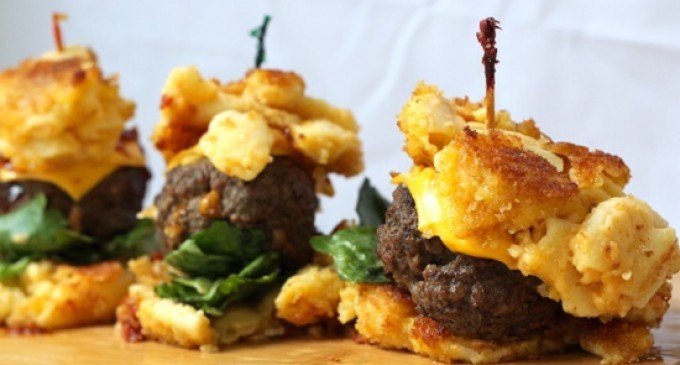 This incredible mac and cheese sliders make enough for three servings but you can always double or even triple the ingredients to make as much as you want. Instead of shredded cheese you can use cheese sauce from the store if you like that better.
It takes about six hours to prepare because the mac and cheese has to chill so it will hold together. It only takes about twenty minutes to cook after that.
Let's Get Started…
The Ingredients To Gather:
8 oz elbow macaroni
1/4 cup flour
3 cup milk
1/4 cup butter
1/2 teaspoon salt
2 cup cheddar cheese
16 oz ground beef
Salt
Pepper
Onion powder
Lettuce
Tomatoes
Bacon
Sliced cheese
BBQ sauce
The Step By Step Directions To Follow:
Melt butter, combine with flour, salt over medium heat.
Add in milk until mixture thickens.
Add cheese, melt to make cheese sauce. Stir in cooked macaroni.
Pour mac 'n cheese into wax paper lined pan.
Spread it, cover with plastic wrap. Weigh it down with something heavy on top.
Cut out circles in chilled mac 'n cheese sheet to make buns.
Coat each bun with flour, egg, bread crumbs. Fry buns 3-4 minutes on each side.
Mix ground beef, salt, pepper, onion powder.
Shape beef into size of a tennis ball, flatten to 1 – 1.5 inches to make patty.
Fry patties 4-6 minutes on each side on high heat until cooked.
Serve & Enjoy!
These mac and cheese sliders are so delicious that you may never eat traditional sliders again. Have you tried these sliders yet?
Let Us Know What You Thought!
Article Source: Spoon University
Photo Source: Hui Lin