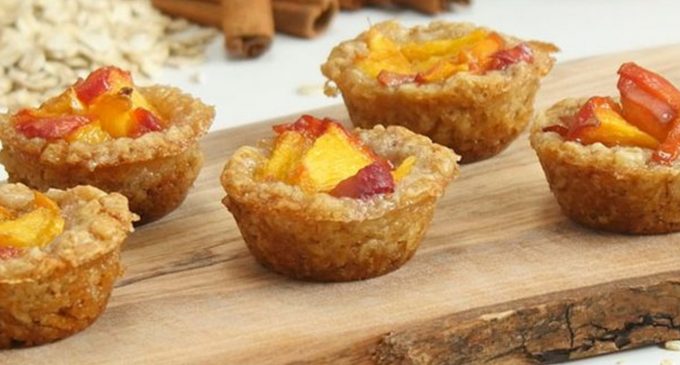 These Cobbler Cups Are the Perfect Way to Cool Off This Summer
If we had to pick a favorite dessert, it might just be peach cobbler. It's that kind of cozy, comforting and old-fashioned kind of dessert that makes you feel all warm inside, and maybe even a little nostalgic for your childhood. After all, it's one of those made-from-scratch desserts that many of us enjoyed while visiting Grandma's house. As delicious as the original is, however, we recently discovered a unique and very creative version of this classic and beloved dessert.
It's a cobbler cup version that's made from an oatmeal cookie mix shaped into cups and then filled with peaches and topped with peach frozen yogurt. If you like peaches, this is definitely the dessert for you! Plus, while many of think of peach cobbler as something warm and cozy to indulge in when it's chilly outside, this version is perfect for summer. That's because it has a generous helping of cool and delicious frozen yogurt on top. Plus, summer is peach season, so what better way to make use of all of those delicious peaches by having a double helping of them with this amazing dessert?
To learn how to make these delectable peach cobbler cups at home, please continue to Page (2) for the full list of ingredients and complete cooking instructions.