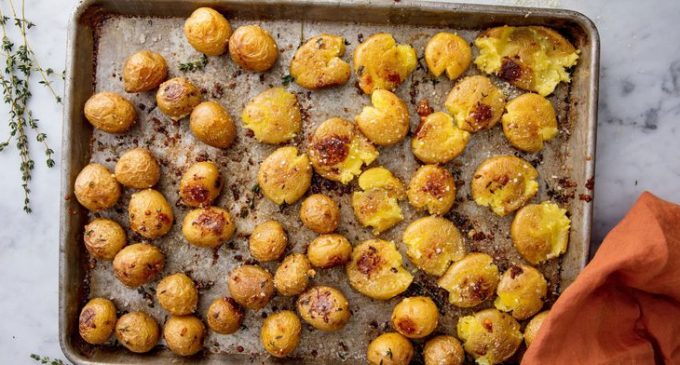 There are many recipes that are floating around on Pinterest yet this one takes the cake!
Not only is it super simple but it's fun and adorably perfect for any dinner party or weekend brunch.
One of the things that any chef will tell you is in order to have a delicious dish you must start with delicious ingredients.  For example, this dish calls for the creamiest potatoes around, Yukon Gold baby potatoes!  This makes them nice and tender so that they nearly fall apart right on the fork!
Once you have your base ingredient you have to add your seasonings. This recipe calls for a rich and tangy blend of spices including garlic, thyme, kosher salt and black pepper. Plus, there's a bit of melted butter and also Parmesan cheese to make it extra rich and creamy.
Are you hungry yet?
We like this recipe because it's super easy, so even a novice cook can make it with absolutely no trouble. Plus, it's a little different than how most people make their potatoes, so it's a nice change of pace and also is guaranteed to impress!
For The Full List Of Ingredients & The Delicious Step By Step Directions To Follow, Please Head On Over To The Next Page For The Entire Recipe… 
NEXT PAGE »