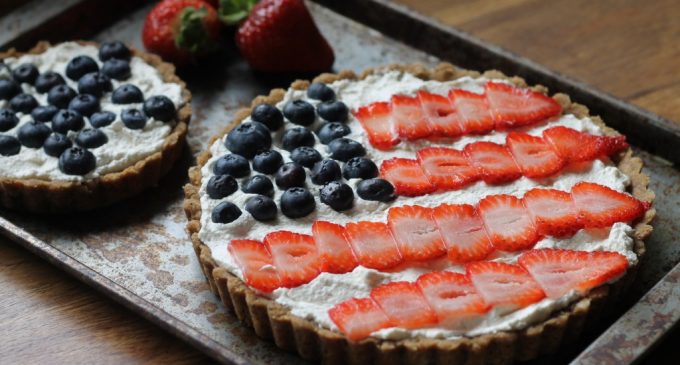 If You're Celebrating Independence Day, You NEED to Make This Amazing Tart!
As Independence Day approaches, we're certainly looking forward to seeing the fireworks, but there are a lot of other July 4 traditions we're eagerly anticipating. Mainly, it's the food! Backyard cookouts and having treats at July 4 festivities is definitely a big part of celebrating the holiday, and if you're like us, you know there'll be potato salad, cole slaw, hot dogs, hamburgers and potato chips wherever you decide to celebrate the 4th. As much as we adore those foods, we're always looking for ways to liven things up a bit and make our July 4 festivities stand out.
We certainly found it with this amazing berry tart, which has a rich and savory brown butter shortbread crust. Plus, the berries on top of the tart are arranged in the shape of the American flag. How clever and creative is that? Plus, even though it looks kind of fancy, it really doesn't require that many ingredients or a whole lot of time. This may be our newest July 4 tradition!
To learn how to make this luscious berry tart at home, please continue to Page (2) for the full list of ingredients and complete cooking instructions.