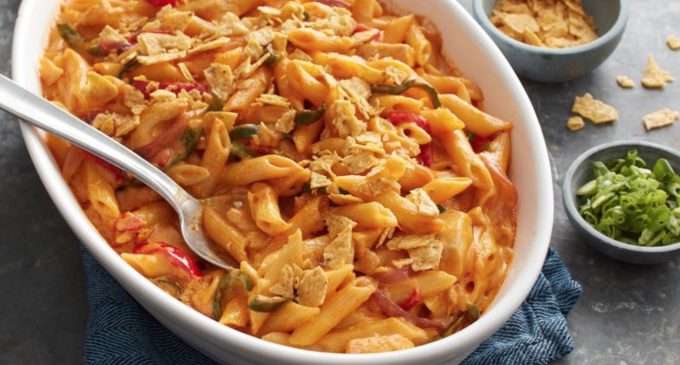 Need something a little different this week? This next recipe is a favorite from the vaults of Betty Crocker. There is no denying that the name alone is synonymous with amazing down-home cooking and as you will see later in this article, this recipe proves that fact.fell all warm and cozy.
While we like good ol' fashioned plain mac and cheese, we really like this dish because it's also incredibly easy to dress up. So if you're like us and you like to experiment in the kitchen, then boy do we have a mac and cheese recipe you are simply going to adore!
This chicken fajita mac and cheese is the perfect dish for anyone who prefers their food on the hot and spicy side. It's an incredibly hearty dish thanks to the generous helpings of chicken, plus it has pasta, bell peppers, onions, chiles, taco seasoning, milk, heavy cream, green onions and two kinds of cheeses.
It's also topped with crushed tortilla chips, which adds a nice crunchy contrast to this rich and creamy dish.
For The Full List Of Ingredients & The Delicious Step By Step Directions To Follow Please Head On Over To The Next Page For The Entire Recipe…
NEXT PAGE »