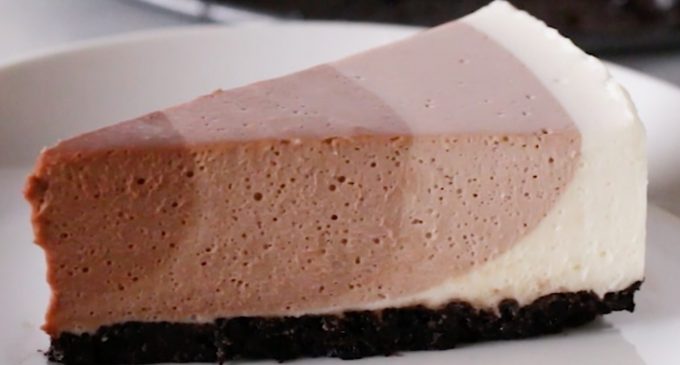 Directions:
Place cookies into a ziplock bag and crush using a rolling pin until fine crumbs form.
Pour cookie crumbs into a bowl with melted butter and mix until well combined.
Pour crust mixture into a 9-inch (23 cm) springform cake pan. Use a measuring up to press the cookies to form an even base. Cover and chill in the refrigerator for at least 4 hours.
In a large bowl, whisk together cream cheese, sugar and vanilla until smooth.
Heat the heavy cream until hot, then add the gelatin and let it rest for 1 minute.
Slowly whisk in the heavy cream into the cream cheese until smooth.
Working quickly, divide the cheesecake batter among 4 bowls with 3 cups in one bowl, 2 cups in a second, 2½ cups in the third, and 1 cup in the fourth.
In the second bowl, whisk in 1 tablespoon of melted chocolate. In the third bowl, whisk in 3 tablespoons of melted chocolate, and in the fourth bowl, whisk in 2 tablespoons of chocolate. Each bowl should vary in color from one another.
To assemble the cheesecake, slowly pour the contents of bowl 1 into the center of the pan. Once the batter has spread repeat with the remaining bowls in numerical order. If your bowls have sat out too long, and aren't liquidy, microwave for 30 seconds before pouring.
Cover the top of the pan tightly with plastic wrap and chill for 4 hours or overnight in the fridge before serving.
Have you tried this? If so what are your thoughts?
Source: Tasty