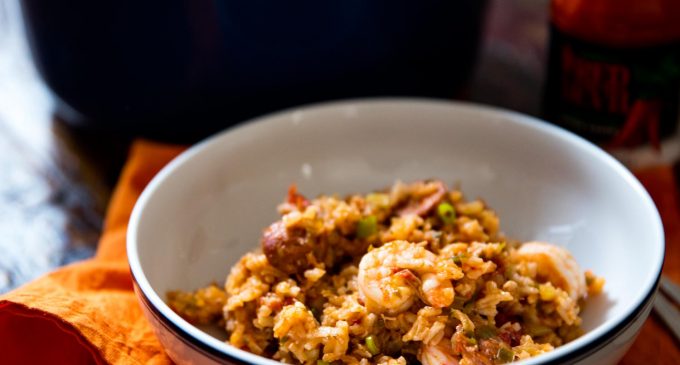 This recipe makes about enough for eight servings so there should be plenty for everyone. It takes about twenty-two minutes to prepare and then about forty minutes or so to bake. It will smell so good, your mouth will be watering long before you try some!
Let's Get Started!
The Ingredients To Gather Are:
1 28-ounce can peeled whole tomatoes, packed in juice
About 3 cups homemade chicken stock or low-sodium store-bought broth, plus more as needed
1 1/4 pounds boneless, skinless chicken thighs
Kosher salt and freshly ground black pepper
1 tablespoon  vegetable, canola, oil plus more if needed
3/4 pound  cooked Cajun or Creole sausage, such as andouille or chaurice
1 yellow onion
2  green bell peppers
4 celery ribs
4 cloves garlic,
1 teaspoon  tomato paste
1 tablespoon  Louisiana-style hot sauce, plus more for serving
2 teaspoons  minced fresh thyme leaves or 1 teaspoon dried thyme
1 teaspoon  dried oregano
1/4 teaspoon cayenne pepper, or to taste
1/4 teaspoon garlic powder
2 bay leaves
2 cups long-grain rice
3/4 pound (340g) peeled and deveined shrimp
6 scallions, white and light green parts only
The Step By Step Directions To Follow:
1.
Strain tomatoes, add juice to  4-cup measuring cup. Place tomatoes in  bowl. Using your fingers, carefully tear each tomato open to release  liquid inside its seed compartments. Strain all liquid into measuring cup. Crush tomatoes well. Add enough chicken stock to tomato juices to total 4 cups. Set aside.

2.
Preheat oven to 325°F. Season chicken all over with salt, pepper. In  Dutch oven, heat oil over medium-high heat until shimmering. Add chicken, cook, turning, until browned on both sides,  6 minutes per side. Transfer chicken to  cutting board, let rest for 5 minutes,  cut into 1/2-inch chunks, set aside.

3.
Add sausage to Dutch oven, cook, stirring often, until just starting to darken,  3 minutes; lower heat and/or add oil at any point to prevent burning. Add onion, bell pepper, celery,  garlic, cook, stirring, scraping bottom of Dutch oven, until browned bits have come loose, vegetables just begin to turn lightly golden,  8 minutes.
The Additional Directions To Follow:
Then add your tomato paste and allow it to cook until it has become lightly brown or for about sixty seconds. Then put in your hot sauce, thyme, oregano, cayenne, garlic powder and a big pinch of black pepper. Put your crushed tomatoes and tomato stock mixture in next along with your chicken and the bay leaves, allow it to come to a simmer. Add some salt and then taste and season more if desired.
Add your rice and allow it to simmer once again.
Place a lid on top of the pot and allow to bake for approximately forty minutes or so. Then add your shrimp and scallions, put it all back in your oven and bake until your shrimp are cooked about five minutes or so. Place lid on your pot and allow it all to rest for about fifteen minutes or so. Then you can take out the bay leaves if you choose.
Serve And Enjoy!
This Creole Style Red Jambalaya is so wonderful that you may like it just as much if not more than kind in New Orleans! Have you tried this before?
Let Us Know What You Thought!
Article Source:Serious Eats