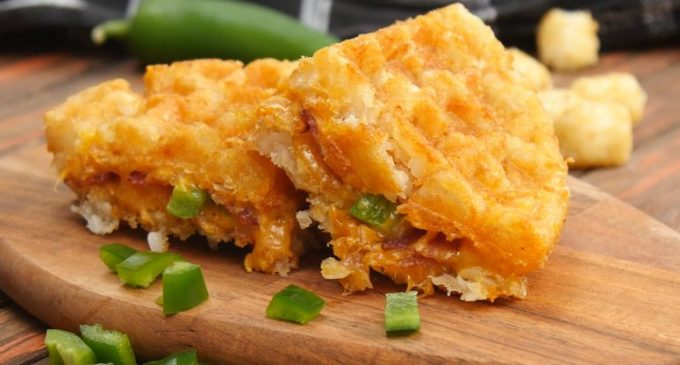 The grilled cheese is one of those traditional lunchtime favorites that's always a solid lunch choice, especially if you're short on time or on ingredients. After all, for the basic version, all you need is bread and cheese! One thing we really like about grilled cheese sandwiches is that they're also incredibly versatile. There are just so many ways to jazz them up, and often all you have to do is add one or two savory ingredients. We thought we'd pretty much seen it all when it came to grilled cheese sandwiches until we came across this version that has one major, and a bit unusual, ingredient.
See, this version uses tater tots instead of bread. And, you put them in a waffle iron for an incredibly melty, toasty and amazing sandwich. This version has a few other creative changes as well, including using savory bacon and some hot and spicy jalapeno pepper. Wow! This sandwich is proof that grilled cheese sandwiches don't have to be boring, and in fact, can rival anything you'd order at a fancy restaurant.
To learn how to make this savory tater tot waffle grilled cheese at home, please continue to Page (2) for the full list of ingredients and complete cooking instructions.