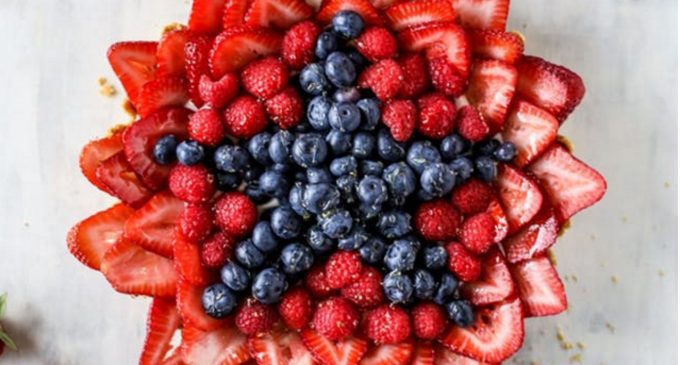 Show Your Patriotic Spirit With This Smooth and Creamy Tart!
You don't have to spend hours in the kitchen or labor over a hot stove to create a mouthwatering and eye-catching dessert. In fact, one of our favorite sweet treats is this no-bake cheesecake tart. It's one of our go-to desserts, and the first thing we turn to when we need a scrumptious dessert that's quick and easy to make. It seemed especially appropriate to make it now, because it just so happens that its ingredients make it the perfect way to celebrate July 4.
That's because it's topped with three kinds of berries, giving it a red, white and blue color scheme that's reminiscent of the American flag. Plus, you only need five main ingredients: graham crackers, butter, cream cheese, sweetened condensed milk, and vanilla extract. So, it's completely possible to make something that your guests will remember without having to go to the grocery store and stock up on a lot of fancy ingredients.
To learn how to make this easy no-bake tart at home, please continue to Page (2) for the full list of ingredients and complete preparation instructions.