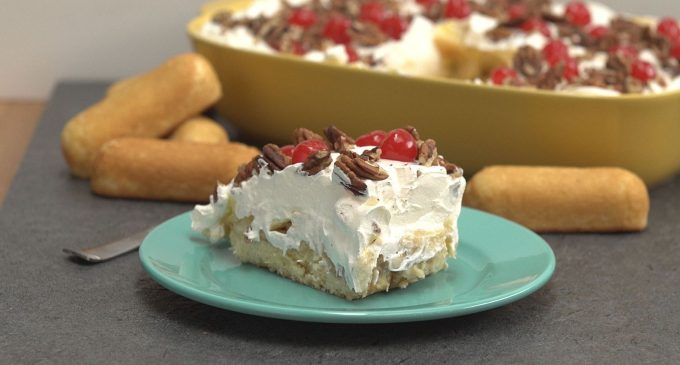 If there is one thing that we love its desserts. There is something about topping off a great meal with something sweet to take the edge off and this dessert is perfection when it comes to doing just that!
While I do love desserts there is one thing that I could do without and it's spending a ton of time in the kitchen. While yes I love baking there are days where I just want to throw something together and get it done. That is why I am always on the lookout for any kind of no-bake desserts!
This dessert comes to the rescue as it starts with a layer of store-bought twinkies. Now, for those of who prefer everything from scratch, I challenge you to bake up a batch of this recipe as is and you will be won over by it.  Everything from the foundation of Twinkies to the sweet cherry on top this dish is sure to please everyone. So let's look at the ingredients that we need in order to get started.
Ingredients:
1 box Twinkies
4 bananas, peeled and sliced
1 can (20 ounces) crushed pineapple, drained well
1 box (3 ounces) instant vanilla pudding
2 cups cold milk
1 tub (8 ounces) Cool Whip, thawed
Maraschino cherries, dried on paper towel
Chopped pecans, for topping
Now that we have our ingredients- let's look at what we are supposed to do with them.