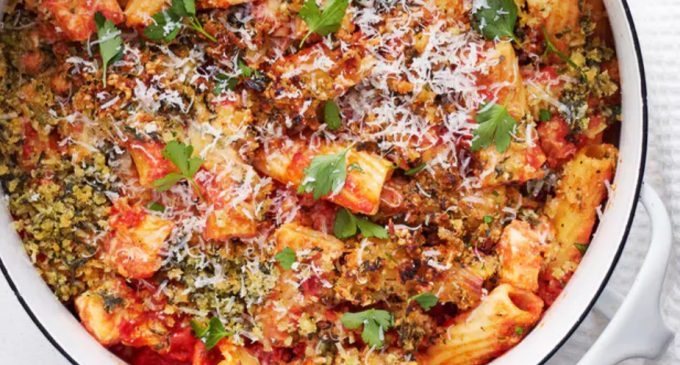 Have you ever had one of those weeks where you had more ideas than you do time? You Pin all sorts of creative dinners on Pinterest but when you look at the clock the only thing you seem to have time for is a quick drive-thru meal.
Stay Away From The Drive-Thru! This Recipe Will Take Little Time & Is So Much Healthier!
Seriously, don't feed your family greasy meals that sit like a brick in the pit of their stomachs. There are so many better options out there and as you will see later in this article this dish is one of them!
First, you will need to gather up your ingredients!
8 ounces dried rigatoni pasta
2 cups chopped cooked chicken breast (about 8 ounces; omit to make vegetarian)
4 large cloves garlic, coarsely chopped
1 (28-ounce) can diced tomatoes
2 teaspoons kosher salt
Freshly ground black pepper
2 cups shredded cheese, such as mozzarella or a mix of mozzarella and provolone
1/2 cup shredded Parmesan cheese
2 cups milk (see Recipe Note)
For the cheesy basil topping:
1/2 cup dried breadcrumbs, such as panko
1/2 cup shredded Parmesan cheese
1/2 cup loosely packed chopped fresh herbs, such as basil, thyme, and sage
1/2 teaspoon kosher salt
Freshly ground black pepper
1/4 cup olive oil
Now that you have those items. Let's get to cooking!
NEXT PAGE >>