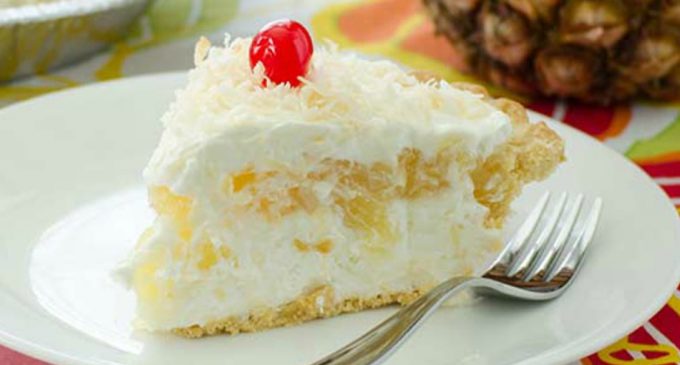 This Light and Creamy Pie is the Perfect Treat
If we had to pick our favorite mixed drink…well, we probably couldn't because there are so many amazing ones! However, we've always been partial to the pina colada, partly because with just one sip we feel like we've been whisked away to a sunny tropical island. Plus, its rich, sweet flavor is almost sinfully good, and is definitely one of our favorite guilty pleasures!
As it turns out, there are a lot of ways to enjoy that unique pina colada flavor beyond just the popular beverage. In fact, the mouthwatering mix of pineapple, coconut, and rum is just perfect for a wide range of desserts and other treats, including this drool worthy pie! The amazing filling uses sweet crushed pineapple and rich and creamy cream cheese, along with for a melt-in-your-mouth pineapple and coconut cream filling. Wow!
To learn how to make this decadent pina colada pie at home, please continue to Page (2) for the full list of ingredients and complete cooking instructions.