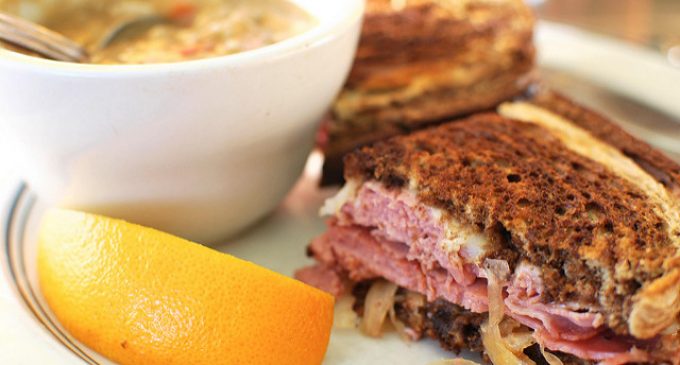 We can finally enjoy a nice Reuben without having to hit a diner!
A good old Reuben sandwich is probably one of our favorite lunchtime treats…if not our absolute favorite of all time! Whenever we have a Reuben, we feel like we're at an authentic New York deli, whether we're eating at our favorite corner restaurant or relaxing in the comfort of our own home. We never thought we'd be able to truly replicate the real thing ourselves until we found this recipe. It's incredibly quick and easy to make and has all the flavor you'd expect from a deli Reuben.
A traditional Reuben sandwich uses Swiss cheese, but we also like it with Gruyère, which has a slightly nutty flavor. Of course, if you like to mix things up, you might want to experiment with other cheeses as well. Yum! We really like this Reuben sandwich with some plain potato chips on the side, for a quick, easy and delicious lunch.
To learn how to make this mouthwatering Reuben sandwich at home, please continue to Page (2) for the full list of ingredients and complete cooking instructions.