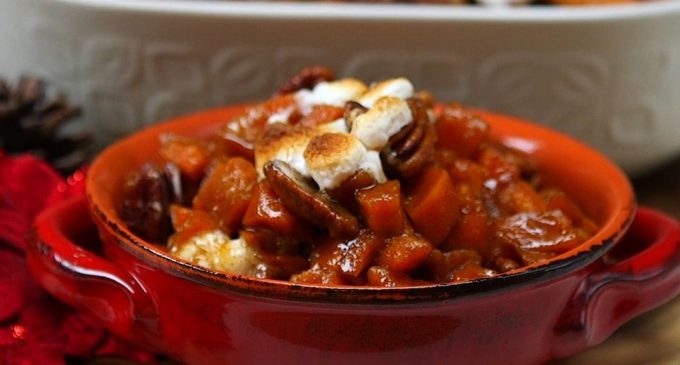 The best part of any slow cooker meal is the ease of preparation! The last thing you want to do on Thanksgiving is make things even more complicated. So take a look at how simple this is to make.
Directions:
Since not everyone will want to cook it in the slower cooker we have also added the traditional way to prepare it on the next page and that recipe has a surprising ingredient..even I was shocked.

Spray slow cooker with non-stick spray. Peel and dice sweet potatoes. Place potatoes in slow cooker.

Combine brown sugar, butter, pumpkin pie spice, vanilla and water in microwavable bowl. Microwave for 30 seconds and stir. Repeat until mixture is well blended and warmed.

Pour mixture over sweet potatoes and mix to distribute. Cover and cook on high for 4 hour or until tender.

Distribute marshmallows over top and then distribute pecans over marshmallows. Reduce heat to low and recover until melted.
What is your favorite way to have this dish? With each family having their own traditions we would love to hear what some of yours are! Let us know in the comments below!
Source: Shared