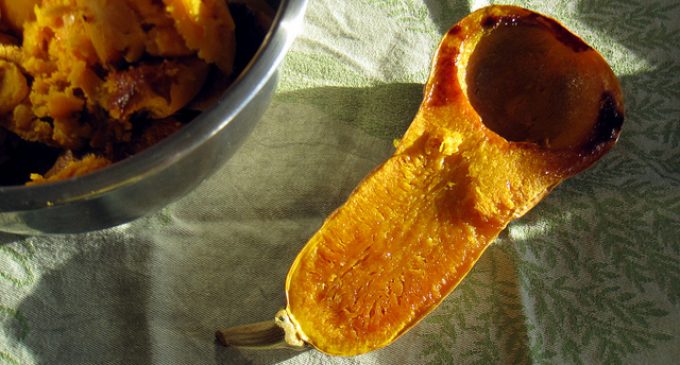 During the summer and fall months, we notice a change in menus across the country as the squash makes it appearance. Their characteristically hard rinds and heavy feel make them stand out among the other produce in any grocer. As you will see later in this article it's a very versatile ingredient and all of these recipes are super easy to create.
Whether its acorn squash, butternut or spaghetti squash one of the best things about this ingredient is that any one of these can be changed out for the other in any recipe. Generally, most varieties are rich in vitamins C and A (in the form of beta-carotene), two antioxidants that help prevent cancer, heart disease, and some eye problems. That's why the color is important–the darker the squash, the more beta-carotene, and other nutrients it contains. Winter squash is also a good source of iron and riboflavin. For our purposes today we are focusing on Butternut Squash.
For this first recipe, we are looking at one of my favorites Butternut Squash Soup.
Ingredients:
• 2 tablespoons butter
• 3 cloves garlic, minced
• ½ cup onion, chopped
• 1 potato, cubed
• 1 stalk celery, chopped
• 1 carrot, sliced
• salt, to taste
• pepper, to taste
• 2 lb butternut squash, peeled, seeded, and cubed
• 6 cups vegetable broth
• 2 cups water
• 1 bay leaf
• 2 sprigs fresh thyme
Directions:
1. Melt butter on medium heat in a large pot, then add the garlic and onion and sauté 1-2 minutes until onion is translucent.
2. Add potato, celery, carrot, salt, and pepper. Sauté for 3 minutes.
3. Add the butternut squash, broth, water, bay leaf, and thyme, and stir. Bring to a boil.
4. Cover and reduce to a simmer for 25-30 minutes.
5. Uncover and remove thyme and bay leaf.
6. Use an immersion or countertop blender to blend the soup until smooth.
7. Allow to cool for 2 minutes then serve.
8. Enjoy!
Next Up: Butternut Squash Fries!
NEXT PAGE »