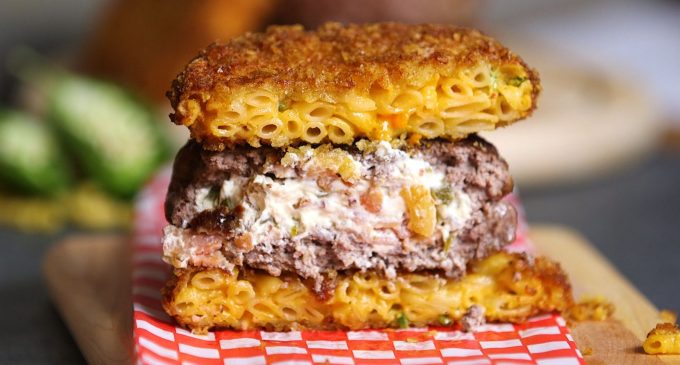 I think we need to come up with a section called crazy things people eat. As you will see later in this article this one is pretty normal and in fact, it's downright delicious. However, there is one thing about this recipe that makes someone tilt their head and say…huh.
Using a bun made of bread is "so old school" take your culinary creativity up a notch by using one of your favorite comfort foods as a placeholder! That's right…good old fashioned mac and cheese!
It sounds strange but it is actually quite tasty and extremely filling. Here is what you will need in order to make this happen!
Ingredients:
1 box macaroni and cheese
2 tablespoons butter
¼ cup half and half
½ cup cheddar cheese, shredded
1 jalapeno, finely diced
1 ½ cups flour
½ teaspoon salt
¼ teaspoon pepper
¼ teaspoon cayenne
2 egg, beaten
3 cups jalapeno flavored kettle chips, finely crushed
1 pound lean ground beef
6 ounces cream cheese, softened
6 slices bacon, chopped
½ cup pickled jalapeno, chopped
You always have the option of making the mac and cheese from scratch but for this, we opted for the box kind. It saved time and tasted just as good. Once you have all of these ingredients in one place it's time to begin.
NEXT PAGE »