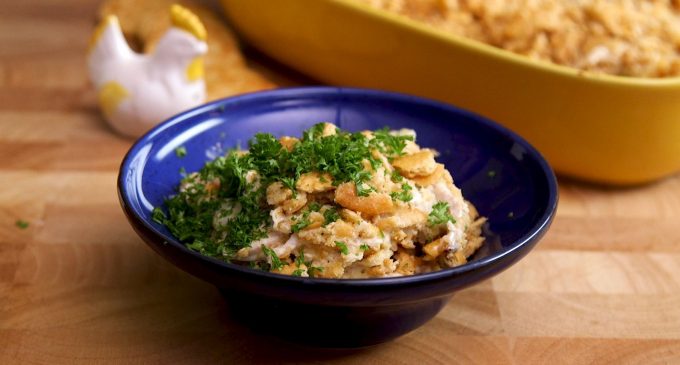 Need something simple for dinner? This Ritz Chicken Casserole is perfect for those busy weeknights. Savory and filling this dish is one of those that remind you of a simpler time. One when mom used to make casseroles at least three times a week and you were not the one that had to worry about paying bills. I believe they call it "the good old days."
While there are many variations of this dish there is one that sticks out in my mind and that is the one done with Ritz Crackers. If you have been reading this site for any length of time you know that I am a huge fan of meals that are super simple to make with ingredients that are common enough for the everyday chef to work with. That is where casseroles shine! In fact, let's take a look at what we will need for this dish!
1 can condensed cream of chicken soup
1 tablespoon Italian seasoning
1 cup sour cream
½ cup green onion, thinly sliced
1 cooked rotisserie chicken (3 cups), deboned and shredded
Half a box (60 crackers) Ritz crackers, crushed
1/2 cup salted butter, melted
Once you have that all together you are ready to begin. So grab your mixing bowl, and your casserole dish and let's do this.