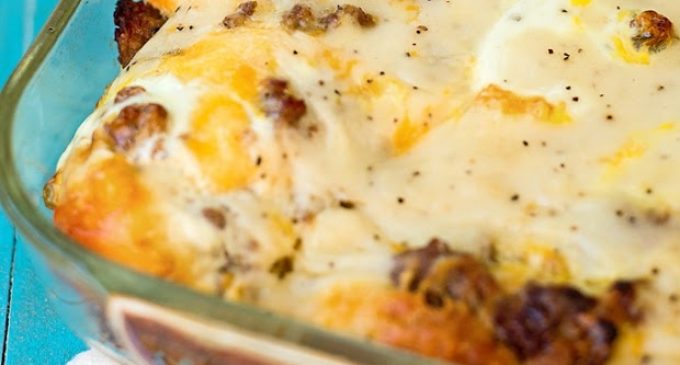 Who says casseroles have to be exclusively for dinner?
There is nothing better than a one dish meal! It saves time, frustration and cleaning up a pile of dishes after cooking! That is why I am such a huge fan of the breakfast casserole! This is something that can be prepped at night and then popped into the oven first thing in the morning so your family can have a great breakfast before they start the day with little effort and stress!
We Love Biscuits & Gravy With Sausage, But When We Tried This Casserole For Breakfast We Fell In Love With It! This Dish Is Perfect For Parties Or Weekend Brunch.
This dish is quickly becoming our favorite breakfast staple. Not only do we love the flavors and how easy it is to make, but we also love the fact that we can assemble it the night before for almost no morning preparations. It has the traditional Southern biscuit and sausage gravy but in casserole form. It's so easy to make, you can double it for large parties. The combination of biscuits, sausage, gravy, eggs and cheese guarantees this dish will be a hit with even the fuzziest of children – there's not a thing they don't like in here…. This recipe is a hit every single time.
For The Full List Of Ingredients & The Delicious Step By Step Directions To Follow Please Head On Over To The Next Page For The Entire Recipe…
NEXT PAGE »