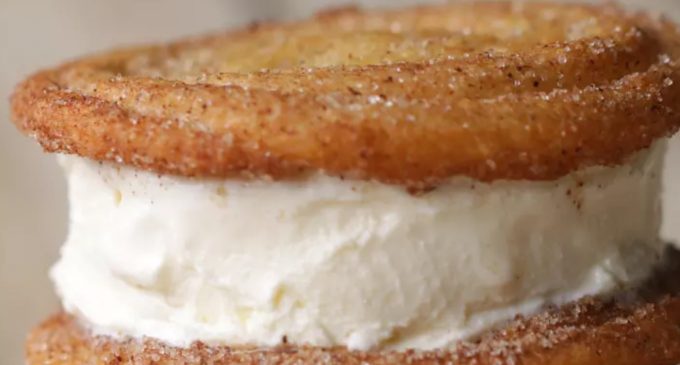 There are very few things that get me to stop what I'm doing and run to the kitchen to see if I have the ingredients for but when I saw this recipe I did just that. Maybe it was the eclipse yesterday, maybe the stars aligned perfectly and all of the culinary god's smiled down on me but as luck would have it…I had everything I needed.
If you have been reading this site for any length of time you know that I have a massive sweet tooth. It guides almost everything I do in the kitchen. I feel that sweetness is a part of the palate that should be accessed at every meal and cheat days is a phrase that should not exist because every day is a day that should be filled with baked goods.
Upon seeing this recipe and realizing I had everything I needed I immediately got to work. The end product is something that is going into my file as "definitely eat again" because it was fantastic!  Here is what you will need in order to be able to make these Churro Ice Cream Sandwiches at home.
INGREDIENTS
Serves 10-12
3 cups water
⅓ cup oil
½ tablespoon salt
2 cups flour
Oil, for frying
1 cup sugar
¼ cup cinnamon
2 pints vanilla ice cream
Next, let's take a look at what I did with these items and how you can turn them into what can only be described as the best ice cream sandwich you will ever have!