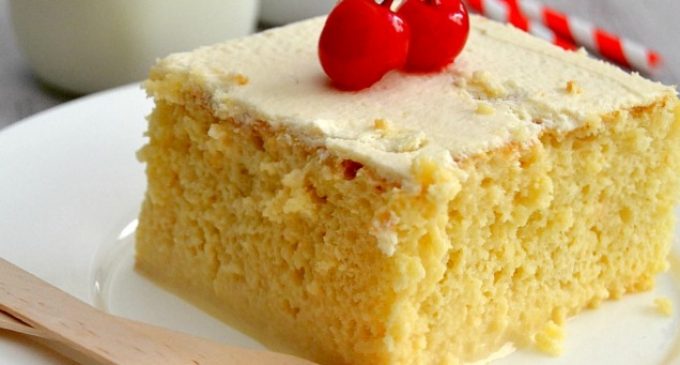 This is one of those cakes that from the moment you take your first bite you are hooked!
Growing up in a small southern town I never knew what Tres Leches Cake was. It was not something that was served at our bbqs or family gatherings so I did not cross paths with this delicious baked good until I was well into my 20's. The first taste of it that I ever had was at a small bakery up north while visiting a friend. She brought me to one of her favorite mom and pop restaurant up in New York and I had one of the best meals of my life! Needing something sweet to top it off she advised me to try the Tres Leches. Since I am not a huge fan of milk I had my reservations but she persuaded me and I gave in and after that first bite, I was so glad that I did!
Of course, I had to have the recipe yet the shop owner said her version was reserved for family only. Understandable but I knew that I had to try and make this at home so I did some digging and found this recipe that I like just as much. I am sure it is at least as similar as the one I had up north but I will never know for sure but I do know that it's just as good! One tip I did get from the shop owner was to make the cake the night before, let it set in the refrigerator overnight and then defrost it just before serving. So that is the one rule I adhere to!
Tres Leches, or three milk cake, has sweetened condensed milk, evaporated milk, and heavy cream. It is pure decadence and the time at the gym is worth every bite!
For The Full List Of Ingredients & The Step By Step Directions To Follow Please Head On Over To The Next Page Where We Show You How To Put Everything Together…