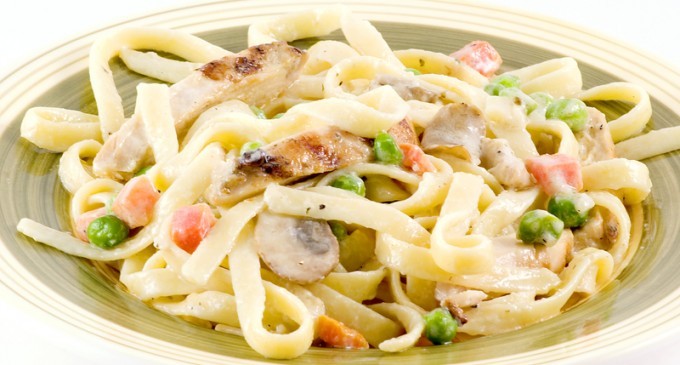 Have you ever had Chicken Noodle Soup but hated the broth and just loved the ingredients inside? Then this is the dish for you!
Your Shopping List
10 ounce uncooked linguine
2 tablespoons butter
¼ cup all-purpose flour
2½ cups unsalted chicken stock
1 cup milk
2.5 ounces grated Parmigiano-Reggiano cheese
1 ounce ⅓-less-fat cream cheese
2 (8-ounce) sliced mushrooms
1 cup onion
3 cloves garlic
1 teaspoon dry thyme
½ cup white wine
3 cups shredded cooked chicken breast
1 cup green peas
The Step-By-Step Cooking Directions
Preheat oven to 375°.
Cook pasta.
Melt butter in a medium saucepan over medium heat. Stir in flour; cook 2 minutes, stirring constantly with a whisk. Gradually add stock and milk; bring to a boil. Reduce heat, and simmer 5 minutes.
Remove from heat; stir in 2 ounces Parmigiano-Reggiano cheese, cream cheese, salt, and pepper.
Heat a large skillet. Add 1 tablespoon oil to pan; add mushrooms, onion, garlic and thyme.
Add wine; cook 1 minute. Combine milk mixture, mushroom mixture, pasta, chicken and peas.
Spoon the pasta mixture into a 13 x 9-inch baking dish.
Bake at 375° for 30 minutes or until browned and bubbly.
It's Dinner Time!
This dish is filling and has a lot of flavor. You are going to love the combination of linguine and chicken together with the white wine. This is absolutely amazing when finished.
Are You Licking Your Lips Yet???
You can serve this with bread as a side or just eat it alone.
This Recipe Was Adapted From: Citron Limette